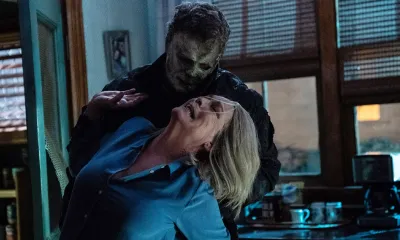 This October brings the final installment of David Gordon Green's trilogy, and Jamie Lee Curtis herself has announced that the film (at least in the US) will be released on Peacock the same day it's released in cinemas.
This video is bloody brilliant!
What this means for UK audiences is unclear, Peacock stuff tends to appear on Sky but that doesn't seem to be the case when films go straight on Peacock!
Any help for a confused Reaper would be appreciated, folks.
Just to recap, the official synopsis for HALLOWEEN ENDS;
"Four years after the events of last year's Halloween Kills, Laurie is living with her granddaughter Allyson (Andi Matichak) and is finishing writing her memoir. Michael Myers hasn't been seen since. Laurie, after allowing the specter of Michael to determine and drive her reality for decades, has decided to liberate herself from fear and rage and embrace life. But when a young man, Corey Cunningham (Rohan Campbell), is accused of killing a boy he was babysitting, it ignites a cascade of violence and terror that will force Laurie to finally confront the evil she can't control, once and for all."
Find out who survives on October 14th!