Grimmfest and Matchbox Cine are delighted to welcome the esteemed writer, filmmaker, producer, publisher, curator and programmer, Kier-La Janisse for an exclusive hosted screening of THE HAUNTING and a special Q&A, at the boutique cinema, Mini Cini, at Ducie Street warehouse, Manchester UK, on the evening of the 3rd of November, 2022.
Tickets are just £12.50 plus £1.56 booking fee and seats are limited, so get on this quick!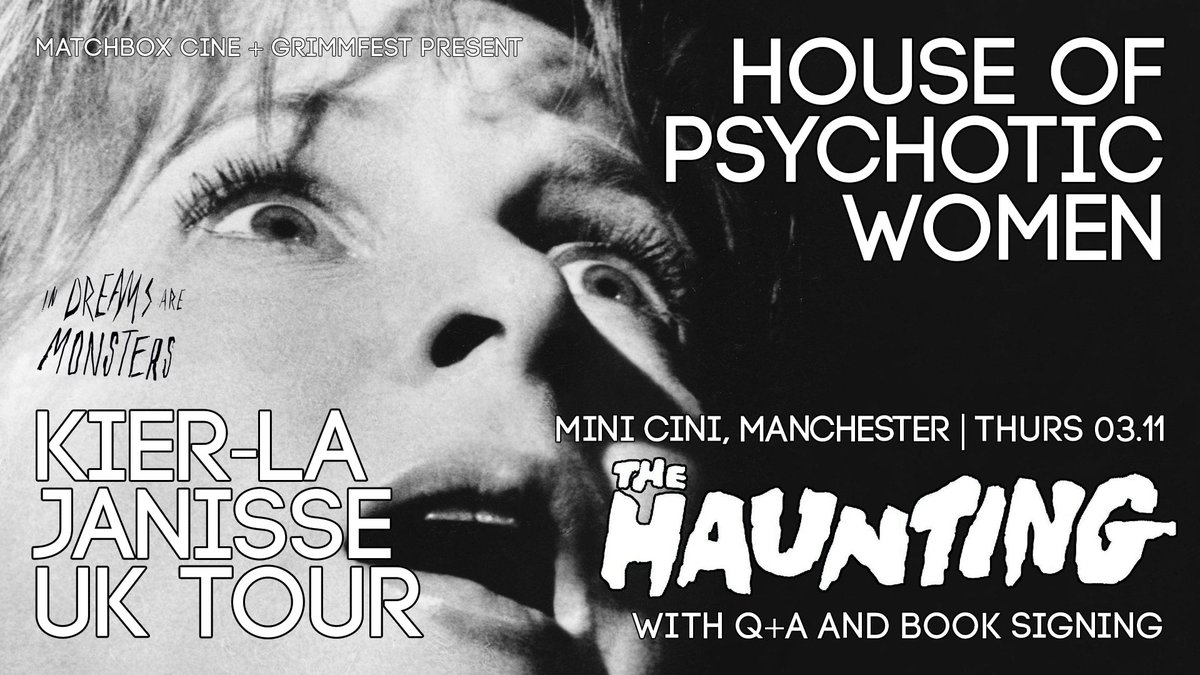 Founder of CineMuerte Film Festival in Vancouver, and The Miskatonic Institute of Horror Studies, Janisse is a former head film programmer for, among others, the Alamo Drafthouse and Fantastic Fest, and served as Festival Director of Monsterfest in Melbourne. More recently, she produced and directed the comprehensive, award-winning documentary, WOODLANDS DARK AND DAYS BEWITCHED: A HISTORY OF FOLK HORROR. But she is perhaps best known for HOUSE OF PSYCHOTIC WOMEN: AN AUTOBIOGRAPHICAL TOPOGRAPHY OF FEMALE NEUROSIS IN HORROR AND EXPLOITATION FILMS, a groundbreaking hybrid of personal memoir and film criticism and a definitive study of female madness onscreen; described by Video Watchdog's Tim Lucas as one of the 10 "most vital" horror film books of all time.

As part of a UK tour to promote and celebrate the publication of a newly revised and expanded edition of this seminal work, Kier-la Janisse will be introducing an exclusive Grimmfest screening of THE HAUNTING. Robert Wise's chilling classic 1963 version of Shirley Jackson's THE HAUNTING OF HILL HOUSE is widely considered to be one of the greatest and most genuinely terrifying haunted house movies of all time, and much of its power lies in the way it plays off its supernatural elements against a nuanced depiction of the complex, guilt-ridden mental state of the female protagonist, so it seems an ideal film through which to illustrate and explore some of the themes of Kier-La Janisse's book.
Following the screening, Kier-La will be in conversation with Dr Linnie Blake, of MMU's Centre for Gothic Studies and will take questions from the audience. Please note that the Introduction and Q&A will be live captioned.
There will also be an opportunity to buy copies of the new edition of HOUSE OF PSYCHOTIC WOMEN and get it signed by Kier-La Janisse after the Q&A.

The event is presented as part of the BFI's IN DREAMS ARE MONSTERS season.