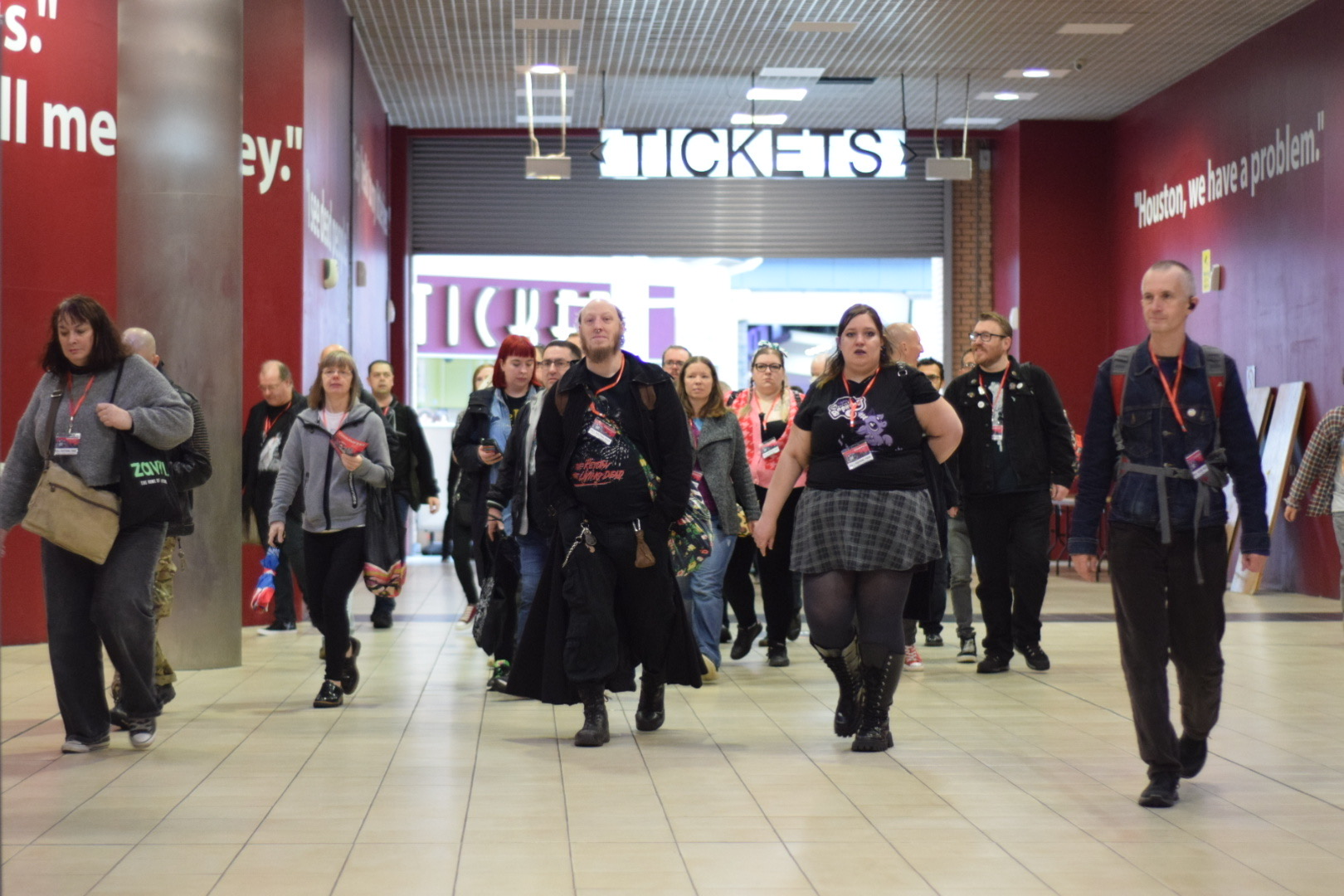 The Reaper has arisen!
Here to bring you a selection of highlights from Grimmfest 2022 chosen by filmmakers, guests, staff and volunteers – I really hope you all had a ghoulishly good time.
Grimm '22 may be done, but there's no rest for the wicked!
Kier-La Janisse is joining us on her UK tour to host a special screening of THE HAUNTING at the Mini Cini on 3rd November – limited seats available, get your tickets now!
Our Monsters & Movies event lands at Odeon Great Northern on 19th and 20th November with guests including Reece Shearsmith, Neil Marshall, Mick Garris, Alice Krige and films such as THE THING, THE LAIR, AN AMERICAN WEREWOLF IN LONDON, THE HALLOW and more! Passes are on sale now!
On with the highlights…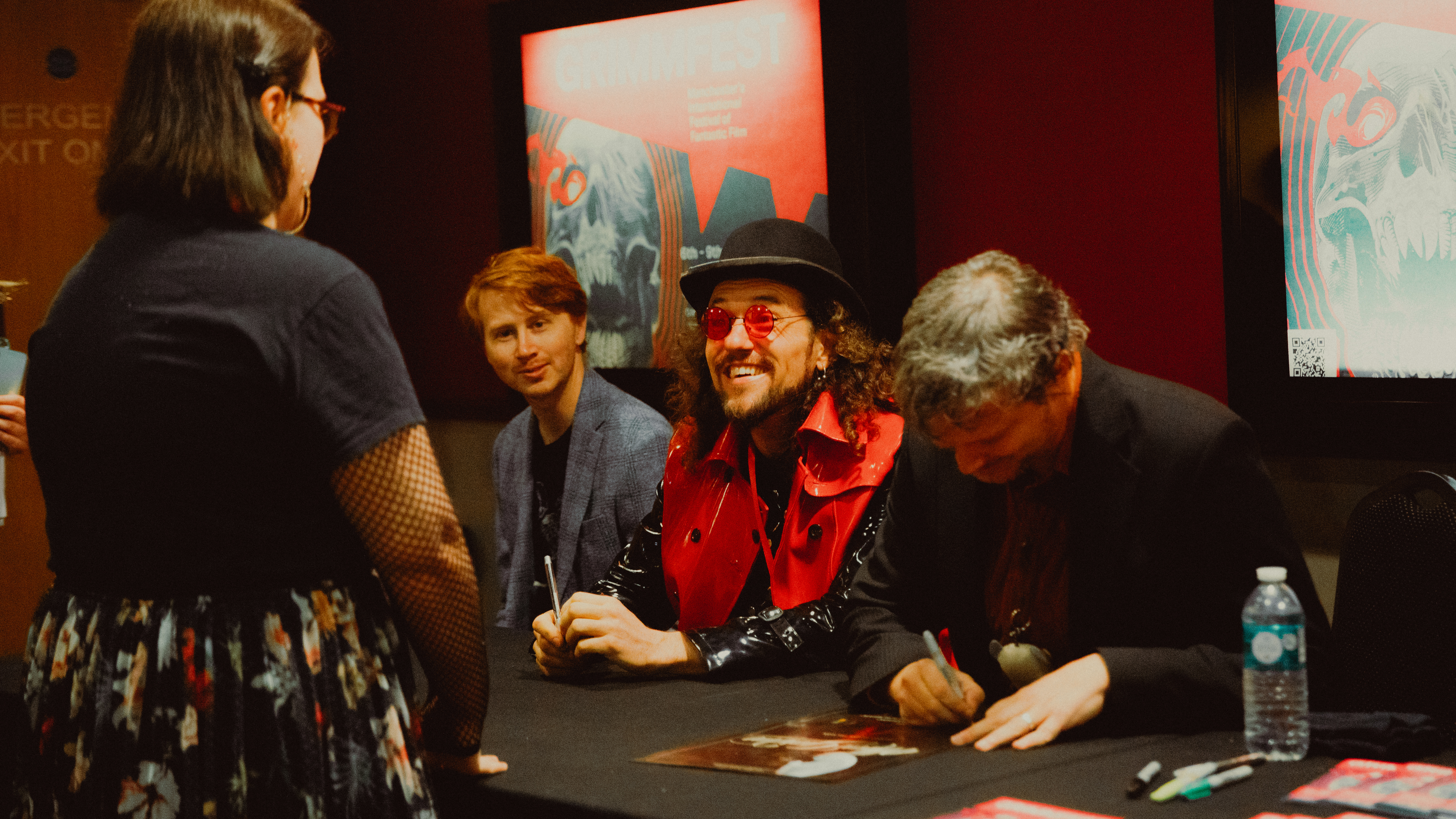 "the highlight for me was the axe throwing/Bar/hub. Tbf the whole experience was amazing. I can't single anything out tbf, all the staff and attendees were amazing! " – Neal Ward, actor in FEED ME
"Grimmfest is top-tier — a festival run by passionate creatives, that's cultivated an audience of adoring genre fans. I'll never forget the press whirlwind that followed our screening. Grimmfest printed posters for our very first signing, where we connected with the audience and felt so much love and appreciation for our hard work, followed by interviews and podcasts where we got to share intimate stories about making the film. Within a few hours, glowing reviews were pouring in, which is fuel for the artist's soul. Any filmmaker that's considering attending Grimmfest for the first time, I'm telling you it's an absolute must!" – John Elfers, producer of MOON GARDEN
"My highlight was the screening, 'cause it was the very first time I watched my movie on the big screen, so I could also check the audience's reactions, if they came at the right points, and I have to say that it happened. Anyway the real highlight was attending the festival, the organisation was perfect, great people full of passion for cinema, very professional, friendly and caring. We enjoyed it very much and hope to do it again, maybe with my new movie in (near, I hope) future!" – Vincenzo Ricchiuto, director of THE GOLDSMITH
"Film highlights included, THE LONELIEST BOY IN THE WORLD, CANDY LAND, PUSSYCAKE and FEED ME. Personal highlight, sitting outside under a marquee in the pouring Manchester rain talking to cast, crew, staff and other festival goers with a pint after the films" – Alex Nicholson, audience member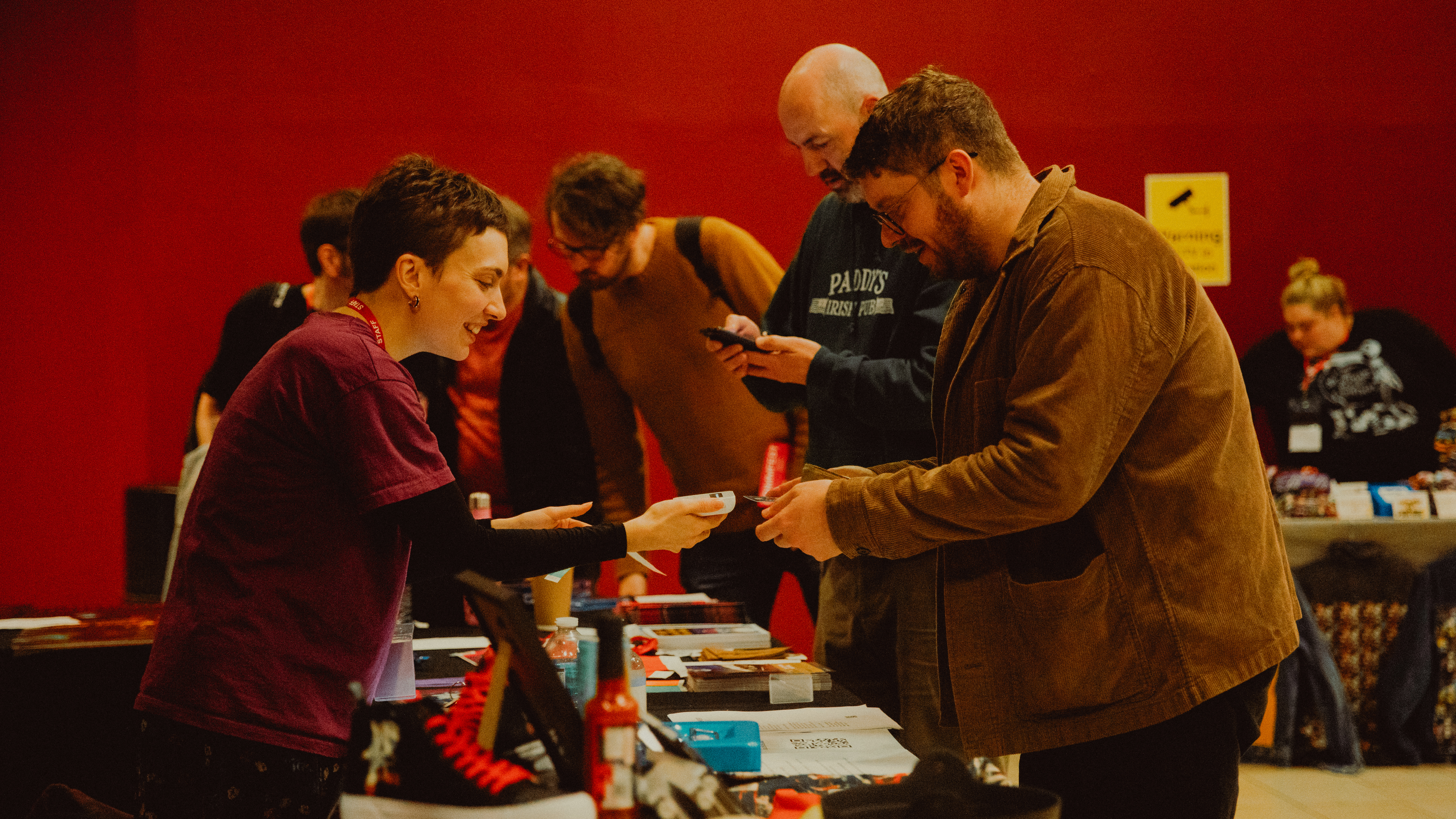 "Although there are many great moments from my time at Grimmfest, without a doubt, the highlight was the signing following the screening. Being able to hear directly from the fans, one on one, about their thoughts and reaction to the film was very moving and special. Not every film festival does that, so it was refreshing to get personal moments with members of your enthusiastic cinephile crowd." – Ryan Stevens Harris, writer/director of MOON GARDEN
"Probably seeing all the awesome stalls and merchandise, particularly the one that was selling bespoke Hellraiser puzzle boxes. I was seriously close to buying one but I just couldn't bring myself to spend money I didn't have! Other than that, I'd say that the axe throwing was good fun and generally just hanging / talking with everybody at the Lions Den into the evening!" – Adam Leader, director of FEED ME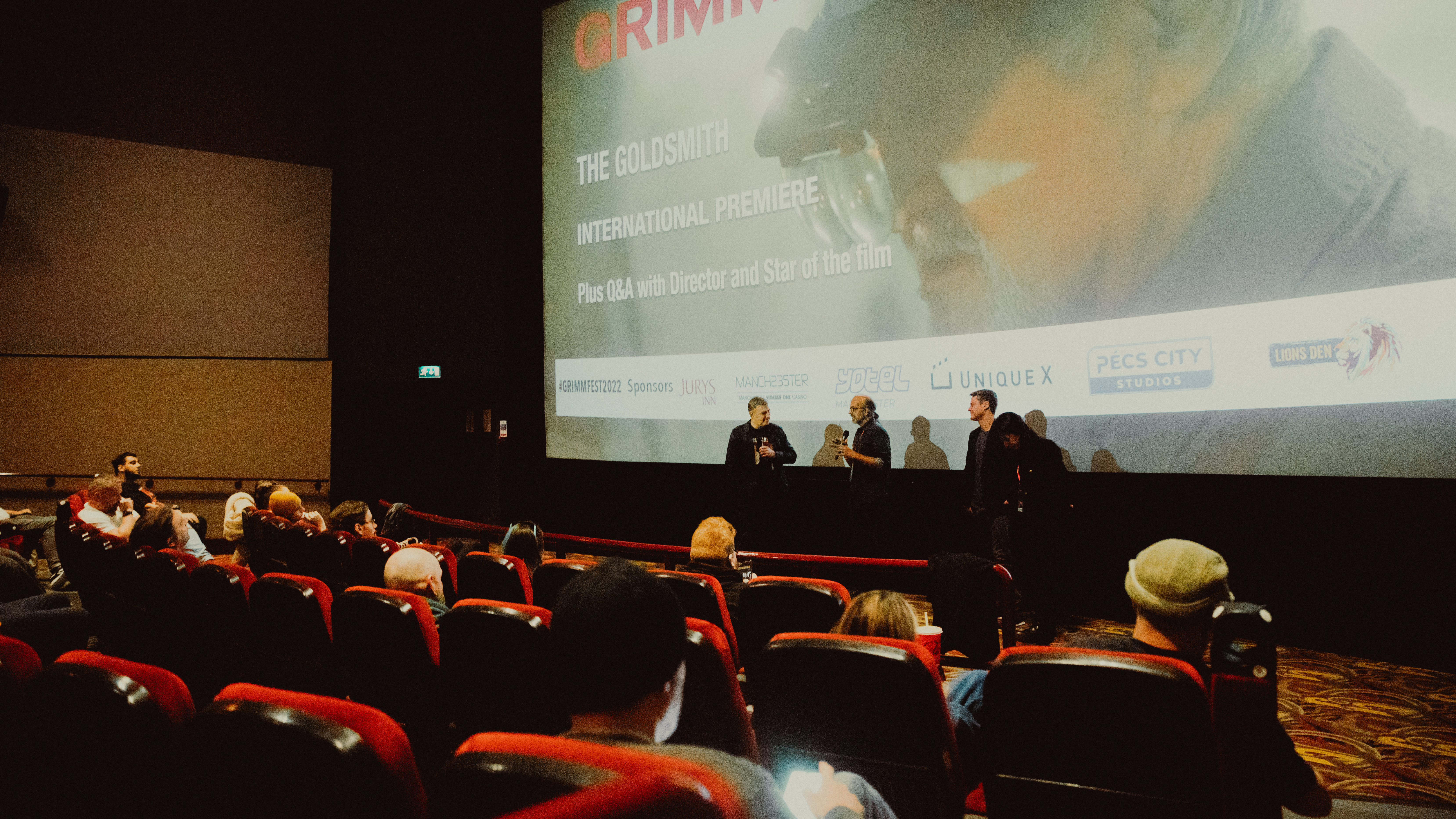 "Officially 'fest wise it would have to be the Q&A by the FEED ME team. They really encapsulated that old school pre-Covid Grimm heyday by sharing their processes and funny stories with the audience (and then staying back for beers!). Non officially, I loved seeing old faces, making new friends and being able to discuss our thoughts – we had an hours wait prior to PUSSYCAKE and all stood about having a great laugh – memories I shall cherish". – Rik Mannix, audience member
"I have so many great memories from attending Grimmfest.  Thank you so much for the wonderful experience.  Let me know if there is anything I can do to help the festival in the future.  
Here's to you and the rest of the crew at Grimmfest promoting and championing great cinema for years to come!" – Lucas Harris, composer MOON GARDEN
"My highlights…. Hanging out with you lot! Genuinely mean that. Also speaking with the filmmakers. Filming stuff (over 8 hours) and getting home to find out my film stuff isn't all blurred and actually looks pretty good for the most part." – Stuart Bannerman, press/cameraman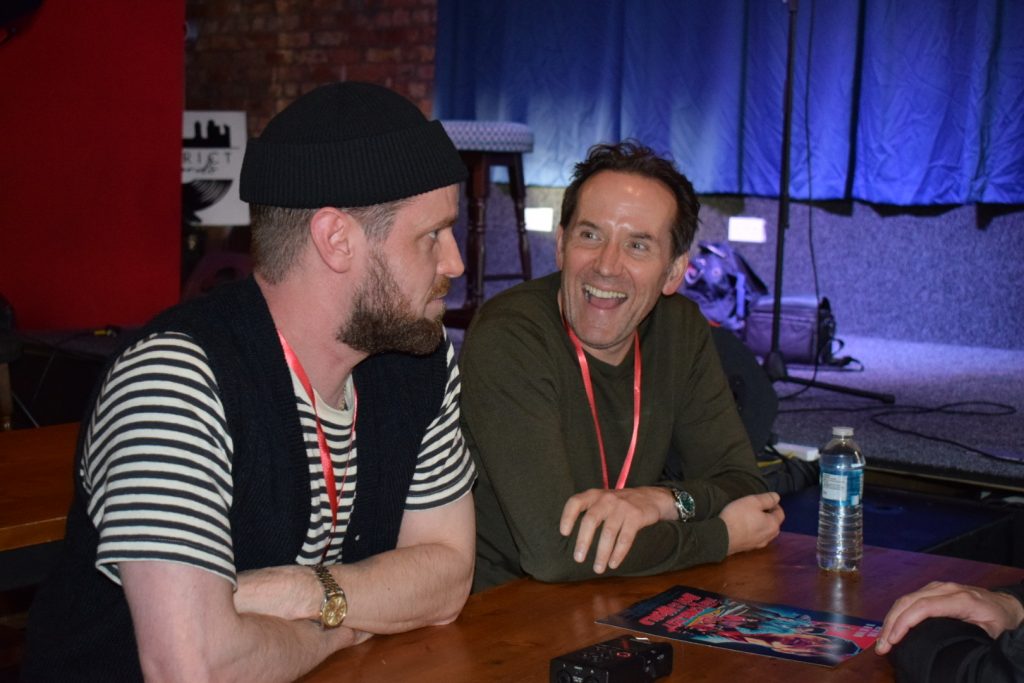 "it was great for us to be with you at Grimmfest. every moment was beautiful and full of enthusiasm and comparison. very nice for us it was to participate in the podcast organized at the lions den" – Manuela e Vincenzo, producer of THE GOLDSMITH
"My highlight was welcoming all our amazing Grimmlins to the festival, we worked really hard as a team to get everything ready and set up – it was great to see it finally happening!" – Sarah Boulton, festival programmer & co-ordinator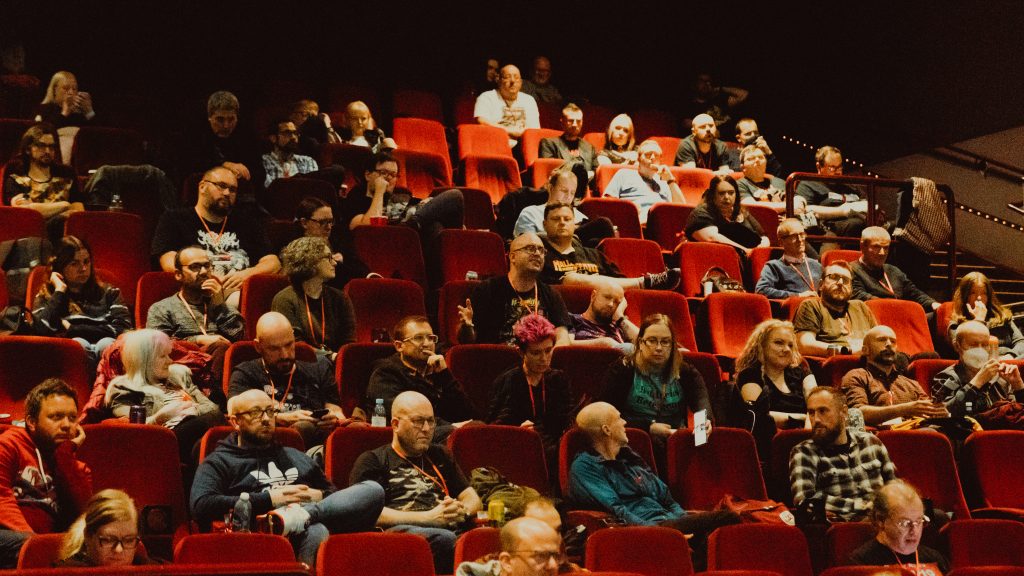 "I enjoyed Grimmfest because of the atmosphere of dark nerdiness and the wide selection of films. Everything from psychological thriller to splattery gore fests. My favourite was THE GOLDSMITH which was intelligent and deranged at the same time. I liked THE PRICE WE PAY for the failed heist and pursuit at the end with its very original climax. NIGHT SKY was great for atmosphere and character development. I found CULT HERO very funny and tongue in cheek. Great at pointing at the problems of celebrity culture. The shorts were very tense and entertaining too. THE EVIL INSIDE was my favourite." – Scott Nabor, audience member
"It would either be (fellow volunteer) Leah winning the final raffle after we joked about it or my Red Bull induced chaos all weekend." – Vicky Lawrence, volunteer