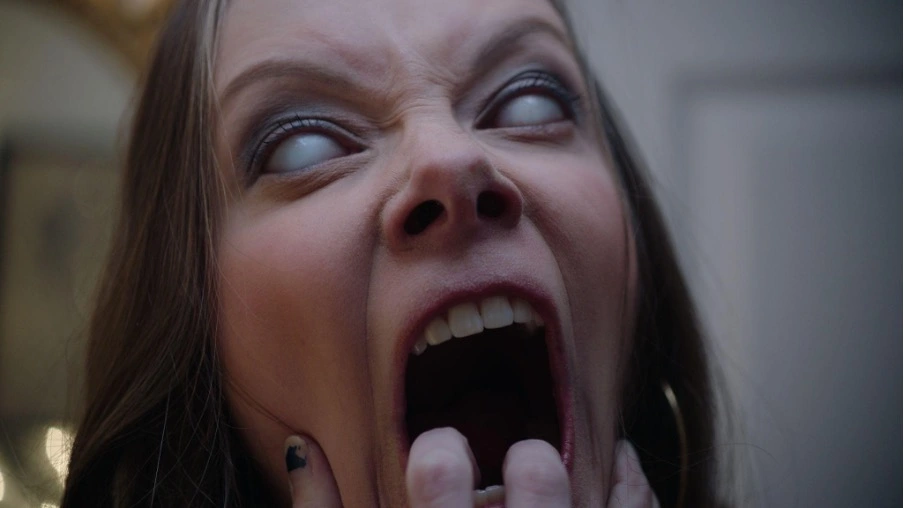 A worthy winner of the Best Scare award at last year's Grimmfest, Pierre Tsigaridis' chilling tale of a witches legacy is getting the full Arrow Video treatment with a release date of 17th October!
"With its super-saturated colour palette, tenebrous art design and electrifying soundtrack, Two Witches presents two truly terrifying conjoined tales of witchery, paranoia and terror that hark back to the gory thrills of classic Euro horrors such as Suspiria, Shock  and The Beyond.
Expectant young mother Sarah is convinced she has been given the evil eye from a mysterious blank-eyed old hag while she is dining with her bullish and insensitive partner Simon. When the couple go to visit his new-agey friends Dustin and Melissa, dark forces are unleashed after an ill-advised attempt at consulting a Ouija board to allay her fears. Meanwhile, tensions grow between grad school student Rachel and her new roommate Masha after a violent incident involving a man that the strange and impulsive young woman has brought home.
First-time feature director Pierre Tsigaridis, who also shot, edited and contributed to the film's soundtrack, singles himself out as one to watch in a deft and unnerving depiction of unspeakable evil that truly delivers."
Not just that, but the Grimmfest Q&A is part of the special features and the absolutely gorgeous artwork was done by regular Grimm artist Ilan Sheady;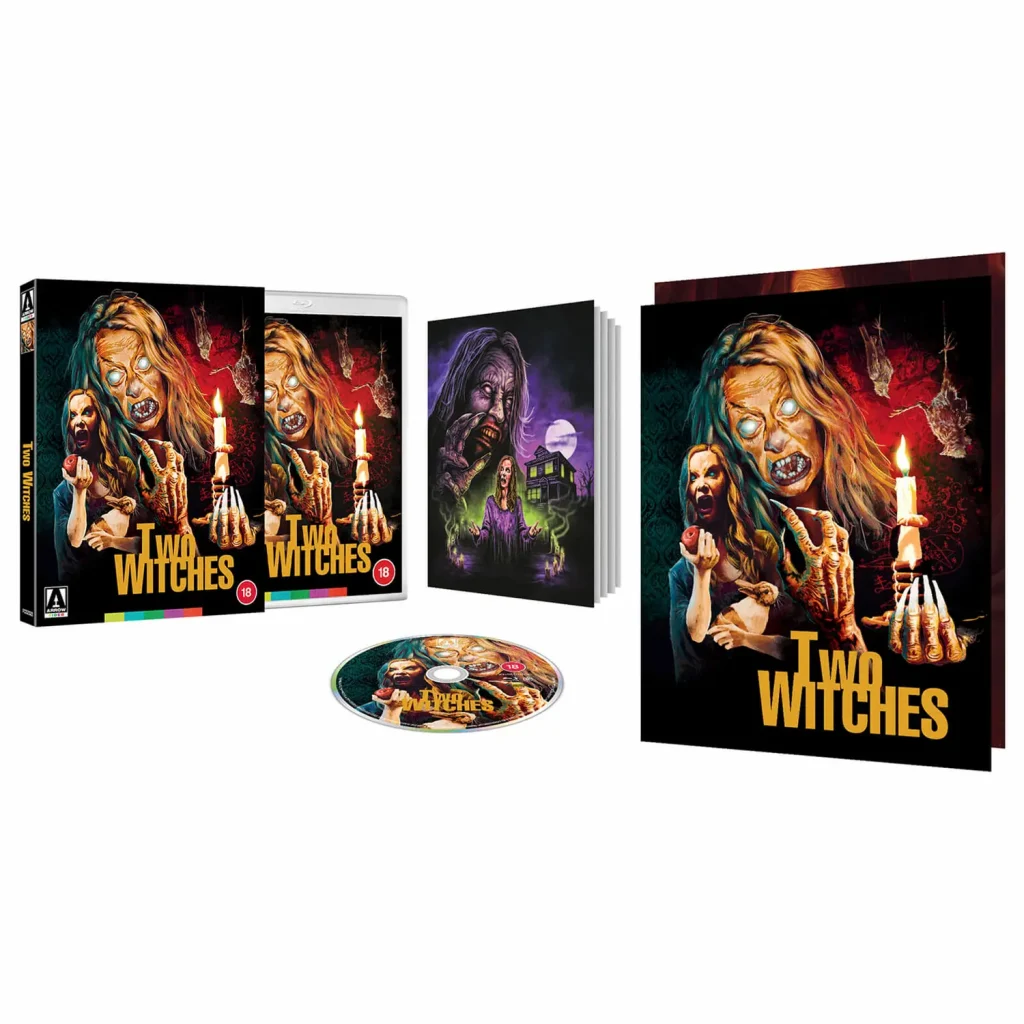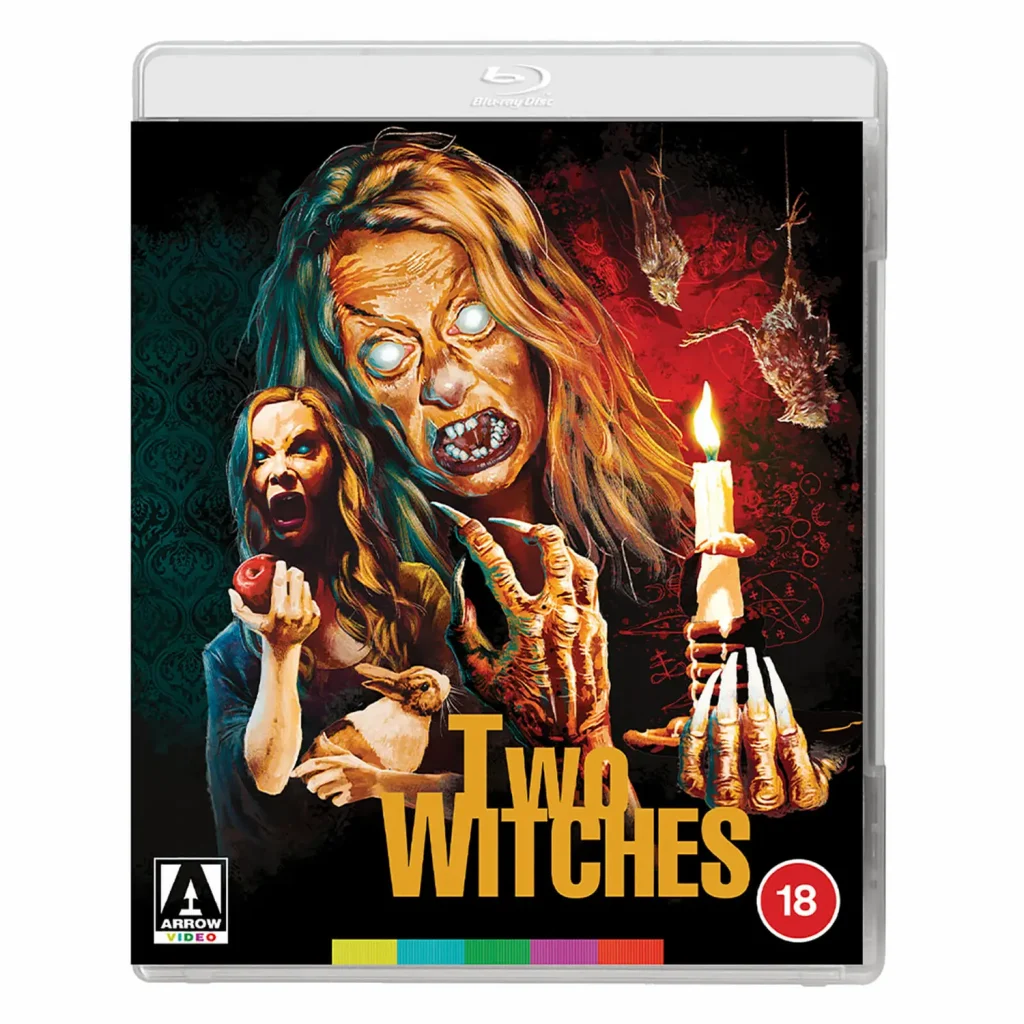 High Definition (1080p) Blu-ray presentation
Original lossless stereo audio and optional 5.1 DTS-HD MA surround audio
Optional English subtitles for the deaf and hard of hearing
Brand new audio commentary by director, cinematographer and editor Pierre Tsigaridis
Brand new audio commentary by producer Maxime Rancon
Behind the Movie, a two-part behind-the-scenes featurette
Interview with  actor and associate producer Dina Silva
The Boogeywoman, an interview with actor Marina Parodi
The Original Score, an interview with composer Gioacchino Marincola
The Piano Score, director Pierre Tsigaridis talks about the inspiration behind the piano score for Two Witches
Test footage
Grimmfest 2021 Q&A with Pierre Tsigaridis and Maxime Rancon
Trailer gallery
Image gallery accompanied by the film's original score
Reversible sleeve featuring original and newly commissioned artwork by Ilan Sheady
FIRST PRESSING ONLY: Illustrated collectors' booklet featuring new writing on the film by Anton Bitel, plus double-sided fold-out poster featuring original and newly commissioned artwork by Ilan Sheady