Grimmfest 2019 will run 3-6 Oct at The Odeon Great Northern in Manchester UK.
Grimmfest is a truly independent genre film festival, committed and dedicated to sharing great movies from both new and established filmmakers from the world of genre cinema. We pride ourselves on premiering the very best in new horror, cult, extreme fantasy and sci-fi movies.
Submit your film HERE
Passes and tickets for Grimmfest 2019, available soon. Full schedule available in late August.
This year we will again be offering a whole selection of amazing awards including our new WORK IN PROGRESS AWARD:
BEST FEATURE: Sponsored by Michael Laundon. (Prize: £40,000s worth of post-production services)

BEST SHORT: Sponsored by Shudder. (Prize: Film to be shown on Shudder VOD platform)

AUDIENCE AWARD: Sponsored by Shudder. (Prize: 1 year's free subscription to Shudder VOD platform)

BEST DIRECTOR: Sponsored by Michael Laundon. (Prize: £40,000s worth of post-production services)

BEST SCREENPLAY: Sponsored by Final Draft screenwriting software. (Prize: A copy of latest Final Draft screenwriting software)

BEST SCORE. Sponsor TBC.

Best ACTOR. Sponsor TBC.

Best ACTRESS. Sponsor TBC.

BEST SFX: Sponsored by Fangoria Magazine. (Prize: 1 year's subscription to Fangoria magazine and social media promotion on the winning film)

BEST KILL: Sponsor Dread Central (Prize: An article on Dread Central website about the winning film)

.

BEST SCARE: Sponsored by Rue Morgue Magazine (Prize: 1 year's subscription to Rue Morgue & published article on the winning film)

WORK-IN-PROGRESS: Sponsored by Michael Laundon, Film Seekers & Screen International. (Prize: £20,000s worth of post-production services, offer of international sales representation & Screen International magazine subscription)

LIFETIME ACHIEVEMENT AWARD. Horror Channel will again present the Lifetime Achievement award to a person who has worked extensively in genre film. Barbara Crampton, winner of the 2018 award, will head the Grimmfest awards jury in 2019.
Grimmfest 2018 was a very special year for us, it was our 10th Anniversary!
In 2018 the festival ran from the 4th-7th October at the ODEON Manchester Great Northern.  The full line-up of films from last year CLICK HERE
2018 saw a number of firsts for Grimmfest including a new awards structure. more details on 2018 HERE.
2018 Award winners CLICK HERE
Info on Grimmfest 2017.
Thousands of film fans, critics, film makers and stars attended Grimmfest 2017 in Manchester UK.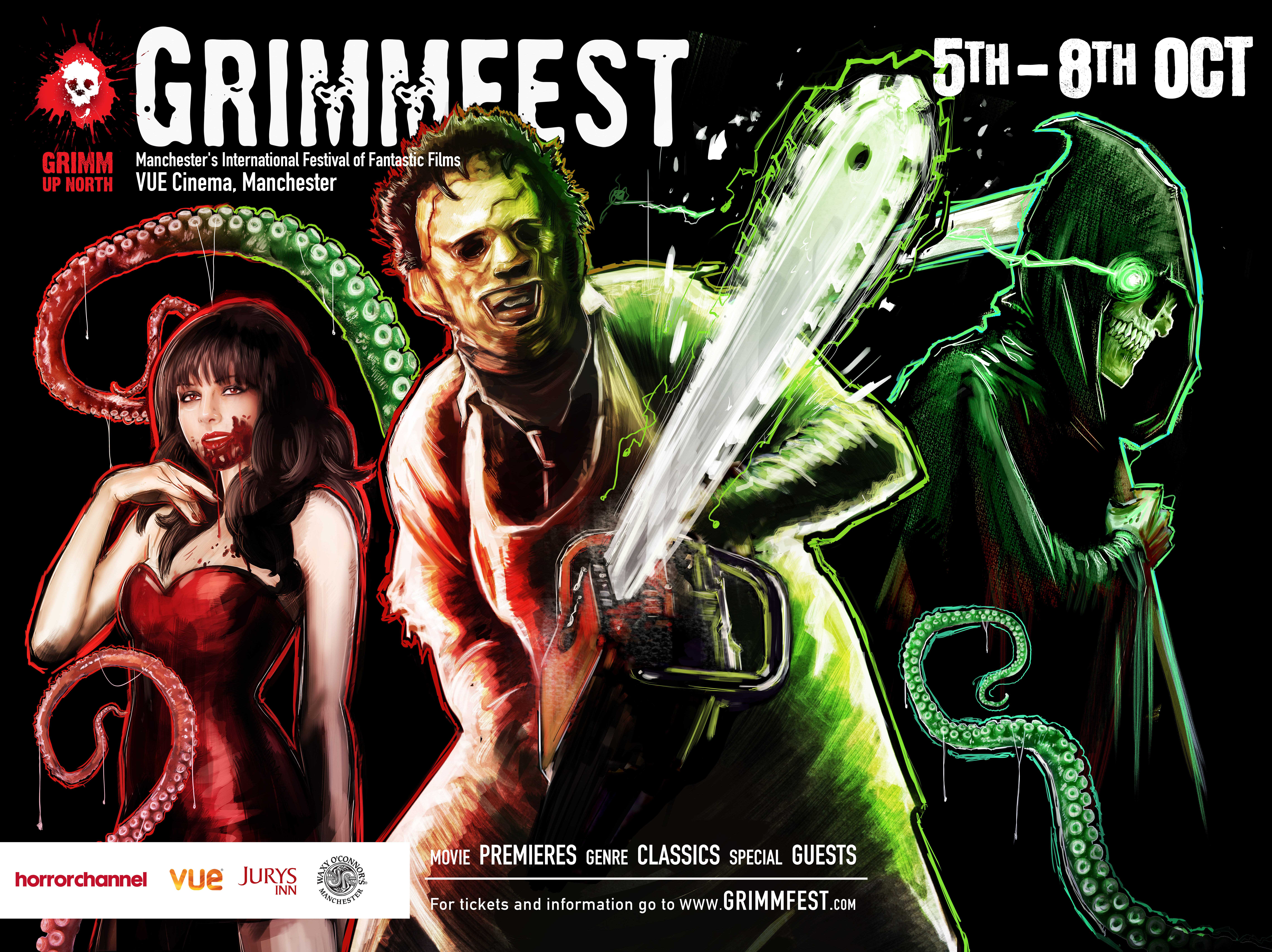 The opening night and the World premiere of Manchester set HABIT was packed to the rafters at the VUE cinema, with crowds of film fans looking to get their first chance to catch the films premiering across the festival. GRIMMFEST 2017 hosted some amazing movie premieres including The World premiere of BORLEY RECTORY (Starring Reese Shearsmith), The European Premieres of Ted Geoghegan's MOHAWK and Rob Grant's FAKE BLOOD. UK premieres of WW1 set TRENCH 11, Fantasia favourite POOR AGNES, Russian supernatural thriller THE BRIDE, Francesca Eastwood in M.F.A, Sitges selected RABBIT and the totally surreal festival favourite DAVE MADE A MAZE. Northern premieres included BETTER WATCH OUT, REPLACE, GAME OF DEATH, KILLING GROUND, STILL/BORN, 68 KILL, RUIN ME, DOUBLE DATE, FREEHOLD (2 PIGEONS), LEATHERFACE and ATTACK OF THE ADULT BABIES.

Q&As and special guests included the cast and crew of HABIT, the cast and crew from BORLEY RECTORY, Rob Grant the director of FAKE BLOOD, The star and producer of DOUBLE DATE, Charlie Carrick from TRENCH 11, The director and cast members from ATTACK OF THE ADULT BABIES. The 2017 event proved yet again Grimmfest is one of the most welcoming genre film festivals in the world.
This personable approach not only makes the festival a great experience for filmmakers and fans alike but also reflects these efforts with sell out audiences who come out in force, hungry to discover inspiring new films and meet the film makers.
Grimmfest is fast becoming the go to genre film fest of the UK and it's now ready for 2018.
Previous World, UK and regional premieres include:
TRAIN TO BUSAN, WHAT WE DO IN THE SHADOWS,  THE BABADOOK, THE HALLOW, TURBO KID, GRABBERS, MARTYRS, CURSE OF CHUCKY, THE DESCENT 2, SINISTER, LEATHERFACE, MOHAWK, HABIT, BORLEY RECTORY, FAKE BLOOD, POOR AGNES, M.F.A, DAVE MADE A MAZE, BETTER WATCH OUT, REPLACE, GAME OF DEATH, KILLING GROUND, STILL/BORN, 68 KILL, RUIN ME, FREEHOLD, DOUBLE DATE, ATTACK OF THE ADULT BABIES, TRENCH 11, ROB ZOMBIE'S 31, DARLING, PET, TRASH FIRE, THE REZORT, BEYOND THE GATES, THE THIN MAN, THE CHAMBER, TONIGHT SHE COMES, HOWL, HE NEVER DIED, LET ME MAKE YOU A MARTYR, ANOTHER EVIL, DEATHGASM, LIFE AFTER BETH, THE NIGHTMARE, MY FATHER DIE, DEADSNOW 2, STARRY EYES, MANIAC, COHERENCE, THE WOMAN, WE ARE STILL HERE, BLOOD SUCKING BASTARDS, A CHRISTMAS HORROR STORY, ZOMBEAVERS, AMERICAN MARY, BIG BAD WOLVES, JOHN DIES AT THE END, EXCISION, THE MACHINE, JUG FACE, COCKNEYS VS ZOMBIES, THE DEAD, LET US PREY, THE LORDS OF SALEM, VHS, THE ABCs OF DEATH, WHITE SETTLERS,  THE RECONSTRUCTION OF WILLIAM ZERO, THE HORSEMAN, CLIVE BARKER'S DREAD, I SELL THE DEAD, AMER, RARE EXPORTS, WE ARE WHAT WE ARE, THE DIVIDE, SOME GUY WHO KILLS PEOPLE, HOUSE OF THE DEVIL, WOLF COP, GALLOW WALKERS, KISS OF THE DAMNED, THE INNKEEPERS, SINT, STITCHES, THE HUMAN RACE, FOUND, THE BORDERLANDS, THE HOUSE AT THE END OF TIME, STATIC, SUBURBAN GOTHIC, LANDMINE GOES CLICK, THE CANAL, JUAN OF THE DEAD, BEFORE DAWN, THE WELL, HELLIONS, A HORRIBLE WAY TO DIE, STALLED, HOUSE OF THE DEVIL, TRUTH OR DARE, THE SAMURAI, THE WHISPER IN DARKNESS, SYNCHRONICITY, COLIN, OUTCAST, DEAD HOOKER IN A TRUNK, BELOW ZERO, HATE CRIME and many more..
Previous guests have included:
LIAM CUNNINGHAM (Game of Thrones, Dog Soldiers), POLLYANNA MCINTOSH (The Walking Dead, White Settlers), DEXTER FLETCHER (Lockstock and two smoking Barrels), ROSS NOBLE (Qi, Stitches) , JACOB ANDERSON (Game of Thrones, Comedown), SHAUN EVANS (Endeavour, Dread) , BILLY MURRAY (The Bill, Rise of the Footsoldier), ZACH GALLIGAN (Gremlins), MARTIN KEMP (Spandau Ballet, The Krays) , JESSICA BARDEN (The end of the F***ing World, Habit), DOUG BRADLEY (Hellraiser), STEVE ORAM (The End of the F***ing World, Sightseers), MYANNA BURING (The Descent, Kill List), KEN FOREE (Dawn of the Dead) , ALICE LOWE (Prevenge, Sightseers) , GOBLIN (Playing live to Suspiria), MATTHEW HOLNESS (Garth Marenghi's Darkplace) , CRAIG CONWAY (Dog Soldiers), ALAN FORD (Snatch, Cockneys Vs Zombies) , DOMINIC BRUNT (Bait, Before Dawn, Emmerdale), CORIN HARDY (The Nun, The Hallow) , DANNY MORGAN (Double Date), ELLIOT LANGRIDGE (Northern Soul, Habit) , LAUREN ASHLEY CARTER (The Woman, Darling), DOMINIQUE TIPPER (The Expanse) , OLIVER STARK (Into the Badlands) , TURLOUGH CONVERY (Poldark, Black Mirror), ROSIE DAY (Outlander, Howl) , ANNA SKELLERN (The Descent 2, Outnumbered), BRIAN YUZNA (Re-animator, From Beyond) , SHAUNE HARRISON (World War Z, Harry Potter), PAUL HYETT (Howl, The Descent), ANDREW ELLIS (This is England, Habit) , ROBIN HARDY (The Wicker Man) , NICHOLAS VINCE (Hellraiser), BRUCE JONES (Coronation Street), ROXANNE PALLETT (Emmerdale, Wrong Turn 6), PATRICK MOWER  (The Devil Rides out), SALLY CARMEN (Habit, Shameless), CHARLIE CARRICK (The Borgias, Reign) , JOSEPH MAWLE (Game of thrones, The Hallow), GEMMA ATKINSON (Emmerdale, Night of the living Dead 3D), CHARLOTTE SALT (Casualty, The Tudors), HOLLY WESTON (Howl, HollyOaks), ROBERT BECK (Habit), SIMON BAMFORD (Nightbreed), LOUIS EMERICK (Layercake, Brookside, Zapped), HANNA STANBRIDGE (Let Us Prey, River City), JOANNE MITCHELL (Attack of the Adult Babies, Bait), KATE COOGAN (Emmerdale, Northern Soul), JAMES MORAN (Severance, Tower Block), JANE DANSON (Coronation Street) and many more.
Previous Remastered classic screenings include:
SCREAM, THE WICKER MAN, NIGHTBREED: THE CABAL CUT, HELLRAISER 1 & 2, HALLOWEEN, THE SHINING, ROBOCOP, BRAZIL, AN AMERICAN WEREWOLF IN LONDON, RETURN OF THE LIVING DEAD, GREMLINS, 12 MONKEYS, THE DEADZONE, THE DEVIL RIDES OUT, TEXAS CHAINSAW MASSACRE, BRIDE OF FRANKENSTEIN, LA BELLE A LE BETTE, THE INNOCENTS, DAWN OF THE DEAD, THE OTHERS, PROMETHEUS, RE-ANIMATOR, ALIEN, HALLOWEEN III, FIGHT CLUB, ALIENS, EVEN HORIZON, AMERICAN PSYCHO, FEAR AND LOATHING IN LAS VEGAS, THE SILENCE OF THE LAMBS, TOTAL RECALL, STARSHIP TROOPERS, FROM BEYOND, THE HILLS HAVE EYES, 2001: A SPACE ODYSSEY, ALIEN 3: DIRECTORS CUT, THE BURNING, PANS LABYRINTH, DARK STAR, ESCAPE FROM NEW YORK, DONNIE DARKO, FOR FLIES ON GREY VELVET, DOG SOLDIERS, CRONOS, THE DEVILS BACKBONE, BLADE 2, THE CEMETERY MAN, 28 DAYS LATER, THE HOWLING, GRINDHOUSE, THE THING, THE FOG, ASSAULT ON PRECINCT 13, THE EVIL DEAD, THE EVIL DEAD 2, ARMY OF DARKNESS, THE EVIL DEAD (Remake), DEMONS, BIG TROUBLE IN LITTLE CHINA, A NIGHTMARE ON ELM STREET, WES CRAVEN'S NEW NIGHTMARE, SHOGUN ASSASSIN  LAST HOUSE ON THE LEFT, THEY LIVE, SCANNERS, VIDEODROME, SUSPIRIA, DEEP RED, BASKET CASE, PRINCE OF DARKNESS, THE LIVING DEAD AT THE MANCHESTER MORGUE, REPULSION and many more.
We have also hosted special screenings in amazing and unusual venues such as Manchester Cathedral, John Ryland's Gothic Library and Ordsall 15th Century 'haunted' Hall.
Testimonials
"It has been an honour and thrill to watch Grimmfest grow over the past decade into such a powerhouse film festival… the UK is lucky indeed to have such a great fest in its own back yard." Dread Central
"One of the most prominent genre festivals in the UK, attracting premieres, special guests and plenty of media attention." Bloody-Disgusting.com
"Firmly established as my favourite movie festival to visit." 60 Minutes With
"We had a great reception from a wonderfully enthusiastic crowd of genre fans. Can't wait to visit Grimmfest again." Paul Hyett, Director – Howl & The Seasoning House; SFX – The Woman in Black, The Descent
"Grimmfest is bringing some of the best new genre cinema from around the world and you're gonna wanna check it out." Jonathan Hatfull, Sci-Fi Now
"A line-up of must-see features on everybody's radar." Horror Movies Uncut
"The theatre will once again find itself under siege by blood-soaked hordes of horror enthusiasts and film freaks for Grimmfest." The Horrorcist Blog
"There's something for everyone at Grimmfest and each and every year the team excel to bring the audience what they want to see and give them a fantastic experience." Horror Cult Films
"Grimmfest really seems to be establishing itself as a prime contender in the world of the Horror Festival."  Diabolique
"Grimmfest's reputation as a premiere genre festival was only surpassed by its buzzing attendees… They've really fostered a fantastic culture." Chris Peckover, Director – Better Watch Out
"It's audiences like those at Grimmfest that make making films worthwhile."  Brandon Christensen, Director – Still/Born
"All the films looked and sounded amazing. Talking with the fans and filmmakers at the fest was a blast. I loved everything about Grimmfest. I very much look forward to screening another film there." Matt Stuertz, Director – Tonight She Comes
"Grimmfest is movie nerd food." Dominic Brunt, Actor – Emmerdale, Inbred & Director – Bait, Attack of the Adult Babies
"I applaud the programmers at Grimmfest for their bold film selections, which not only create unique opportunities for moviemakers but allow their audiences to see and feel cinema they might not have the chance to experience."  Ted Geoghegan, Director – Mohawk, We Are Still Here
"This has been a massive, massive honour." Corin Hardy, Director – The Hallow, The Nun
"Manchester's Grimmfest is steadily becoming one of the horror festival heavyweights." Colin McCracken, Journalist – Fangoria, SFX, Diabolique, Hustler
"Grimmfest is a great event organised by genuine genre enthusiasts." Ashley Thorpe, Director – Borley Rectory
"We were honoured to have our UK premiere at Grimmfest. They did a great job of promoting the film, and their efforts led to a slew of great press; their PR people are really on top of it and we are forever grateful. It really helped establish an audience for our movie in the UK."  Bill Watterson, director – Dave Made A Maze
"A terrific place to meet fellow horror fans and filmmakers… with a high quality slate of eclectic genre films." Lauren Ashley Carter, Actress/Producer – The Woman, Darling
"Easily one of the best experiences I've had at a festival." Elliot james langridge, Actor – Habit, Northern Soul 
"This was my 6th year in a row and it just gets better and better…. Fantastic mix of horror films but Double Date and Sound From the Deep were particular favourites of mine. Looking forward to year 2018!" Billy Tward, festival goer
"Been going for the last 6 years and it keeps getting better and better" Owen Warberton, festival goer
"In all respects I can honestly say 'Grimmfest did me proud'! I've attended film premiere's before but I've never felt such a warm atmosphere or watched cast and crew members be so well looked after, myself included. The organisers know what it takes to make a good film production and create a good film festival experience. The vue cinema had great picture and sound reproduction too and it was delightful to experience a film in all it's 'proper' glory. The responses from audience members I got to meet, many of whom had attended throughout, proved they had obviously enjoyed the selection of films and the whole event". Sara Dee, actress – Borley Rectory
"An excellent selection of features and short films and great interview opportunities. Will see you in 2018!" Paul Downey, festival goer
"Just came back from this year's Grimmfest – our first time – and absolutely loved it! The team worked so incredibly hard to put on a slick and well-timed programme and we watched a wide variety of new releases from the different horror sub-genres over the 4 days. A huge well done and thank you – can't wait to do it all again next year!" Nate Alxndr, festival goer
"Another great year from the Grimmfest team. An excellent choice in movies proves they always have great taste in a wide range of horror. Plenty to see over 4 days whether you want a day pass, full pass or single ticket screening. 6th year in a row now and I'll definitely be back". Ricky Jackson, festival goer
"This was my first time at grimmfest and it was an awesome four days. The festival was well organized and all ran smoothly. The venue at the Vue Printworks in Manchester was a great venue for the festival, big cinema with a great screen, very comfy and relaxing. Everyone involved in the festival was so helpful and was always up for talking about the festival, films and anything else. All the festivals guests were so kind and was always happy to answer any questions you may have, sign posters, programs and have photos taken. I highly recommend Grimmfest to anyone, I will DEFINETLY be attending again". Jimmy Spriggs, festival goer
"My fourth time this year absolutely love it. So laid back and well organised". Tam Pirrie, festival goer
GRIMMFEST, home of horror, cult  and fantastic films in the North, based in Manchester, UK.
To check out highlights and the line up from  GRIMMFEST 2017 click HERE.