GRIMM UP NORTH, home of horror, cult  and fantastic films in the North, based in Manchester, UK.
Monthly film screenings, events and the annual film festival in October called GRIMMFEST, which is now listed as one of the top 40 genre film festivals in the World.
If you love brand new and classic horror, cult, fantasy and Sci-fi movies presented on the big screen then GRIMM is for you. We pride ourselves on bringing you the very best in genre film from around the world.
We present Movie premieres, special film maker talks, celebrity guests speakers and a selection of genre classics. Over the years we've hosted more premieres than you can shake a stick at and welcomed a plethora of special guests from talented directors to amazing actors.
Previous World, UK and regional premières include:  THE HALLOW, DXM, HE NEVER DIED, DEATHGASM, TURBO KID, WHAT WE DO IN THE SHADOWS, LIFE AFTER BETH, THE BABADOOK, THE DESCENT 2, SINISTER, DEADSNOW 2, COHERENCE, THE WOMAN, AMERICAN MARY, CURSE OF CHUCKY, BIG BAD WOLVES, JOHN DIES AT THE END, EXCISION, THE MACHINE, COCKNEYS VS ZOMBIES, THE DEAD, LET US PREY, VHS, THE ABCs OF DEATH and WHITE SETTLERS.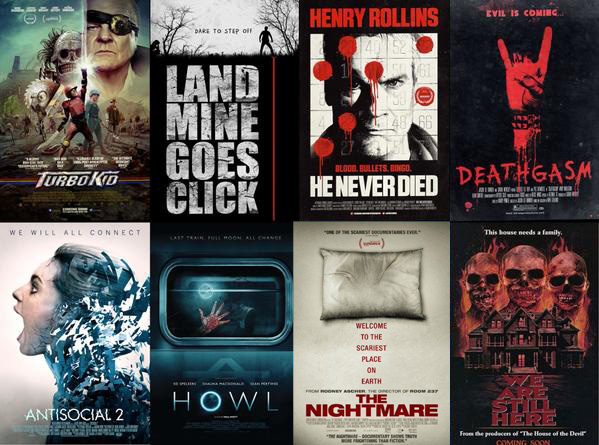 Previous Remastered classic screenings include: SCREAM, THE WICKER MAN, NIGHTBREED: THE CABAL CUT, HELLRAISER, HALLOWEEN, THE SHINING, THE DEADZONE, THE DEVIL RIDES OUT, TEXAS CHAINSAW MASSACRE, BRIDE OF FRANKENSTEIN, LA BELLE A LE BETTE, THE INNOCENTS, DAWN OF THE DEAD, THE OTHERS, RE-ANIMATOR, FROM BEYOND.
Previous guests have included:  Brian Yuzna (Re-Animator, From Beyond), Corin Hardy (The Hallow), Joseph Mawle (Game of Thrones), Liam Cunningham (Game of Thrones), Claudio Simonetti's Goblin, Steve Oram (Sightseers), Ross Noble (QI), Martin Kemp (Spandau Ballet), Stars of Emmerdale Patrick Mower & Dominic Brunt, Robin Hardy (The Wicker Man), Pollyanna McIntosh (The Woman), Reece Shearsmith (The league of Gentlemen), Matthew Holness (Garth Marenghi's Darkplace), Alice Lowe (Sightseers), Shaun Evans (Endeavour, Boy A), The cast of Clive Barker's HELLRAISER, Myanna Buring (Ripper Street, The Decent, Kill List) and many more.
Grimmfest is now in its ninth year and has quickly become one of the most prestigious fantastic film festivals in the UK. Grimmfest 2017 takes place 5th-8th October, Vue Printworks in Manchester, UK.
To check out highlights and the line up from  GRIMMFEST 2017 click HERE.