You'll need to be signed up to our newsletter to be in with a chance of winning. All competition winners are announced on our regular newsletter (Sign up box on the right of this page, Scroll down).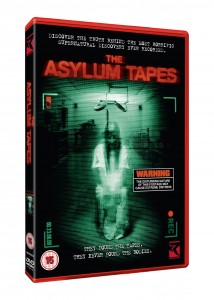 To be in with a chance of winning a copy of The Asylum Tapes, all you have to do is email us at: info@grimmfest.com with the answer to this question by midday Monday 3rd Sept 2012.
Q: What is the title of our 5th announced feature length movie premiere for Grimmfest 2012? Good Luck!
Synopsis
Originally titled GREYSTONE PARK in the US, Directed by Sean Stone and featuring a cameo from his slightly more famouse father Oliver!
When a group of young filmmakers decide to visit an abandoned psychiatric hospital to investigate the terrifying rumours that surround an institution that was infamous for its inhumane treatment of its patients, they have no idea of the horror they will uncover. Ward after ward was used for a variety of invasive surgical procedures, some necessary, some less so. As their exploration takes them deeper into the bowels of the building, they find themselves trapped by supernatural forces that have no intention of letting them escape. As the night unfolds, they soon find that there is a fate worse than death. This is their footage. Everything is real.
Buy it here: http://goo.gl/LSiyL