Grimmfest 2018 is a very special year for us, it's our 10th Anniversary!
This year the festival will run from the 4th-7th October in Manchester UK.
Submit your film now to Grimmfest and be a part of one of the most vibrant genre film festivals in the world.
Grimmfest is a truly independent genre film festival, committed and dedicated to sharing great movies from both new and established filmmakers from the world of genre cinema. We pride ourselves on premiering the very best in new horror, cult, extreme fantasy and sci-fi movies.
Over the 4 day weekend Grimmfest 2017 once again attracted thousands of film fans, critics, film makers and stars to Manchester UK.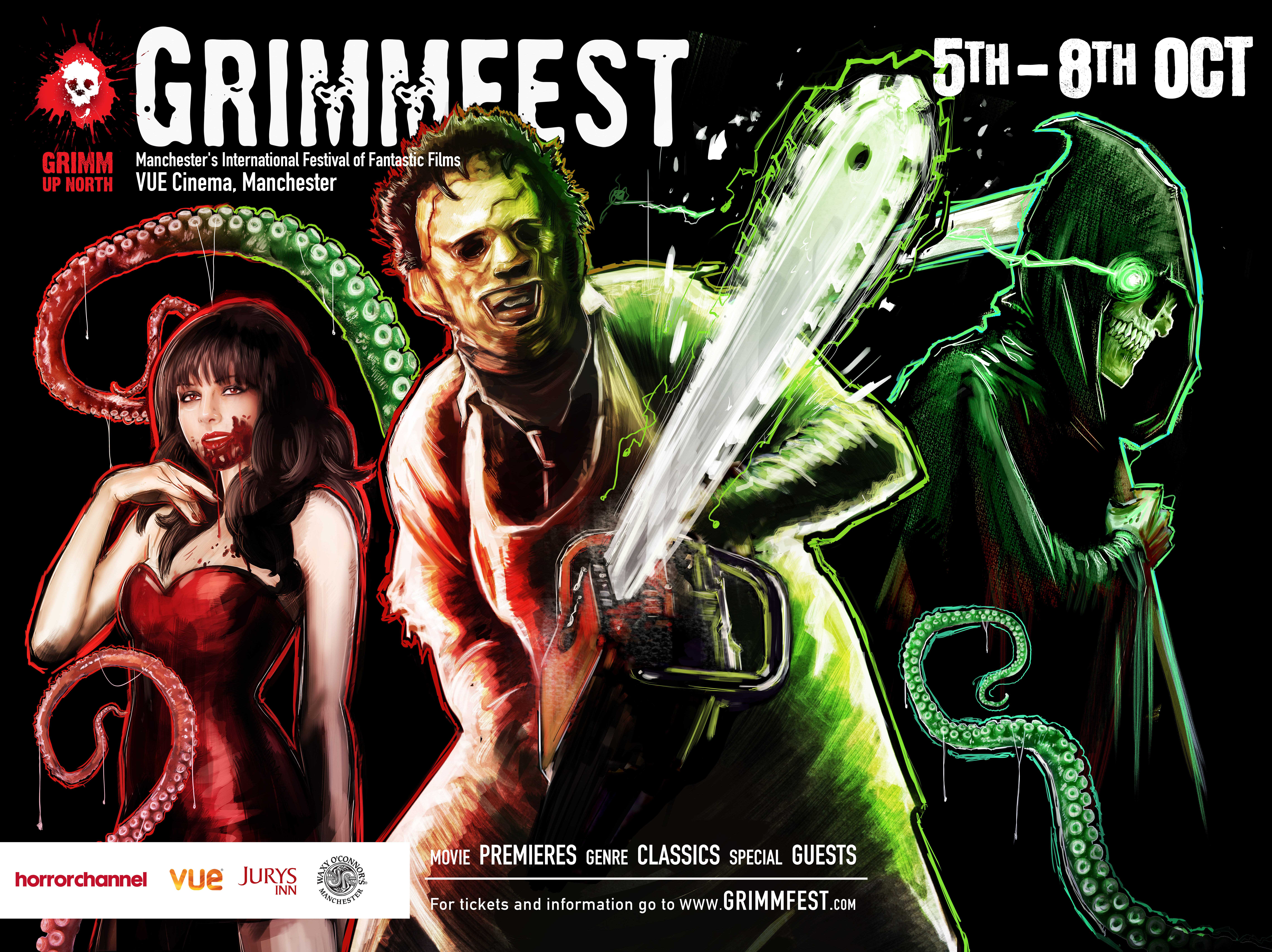 The opening night and the World premiere of Manchester set HABIT was packed to the rafters at the VUE cinema, with crowds of film fans looking to get their first chance to catch the films premiering across the festival. GRIMMFEST 2017 hosted some amazing movie premieres including The World premiere of BORLEY RECTORY (Starring Reese Shearsmith), The European Premieres of Ted Geoghegan's MOHAWK and Rob Grant's FAKE BLOOD. UK premieres of WW1 set TRENCH 11, Fantasia favourite POOR AGNES, Russian supernatural thriller THE BRIDE, Francesca Eastwood in M.F.A, Sitges selected RABBIT and the totally surreal festival favourite DAVE MADE A MAZE. Northern premieres included BETTER WATCH OUT, REPLACE, GAME OF DEATH, KILLING GROUND, STILL/BORN, 68 KILL, RUIN ME, DOUBLE DATE, FREEHOLD (2 PIGEONS), LEATHERFACE and ATTACK OF THE ADULT BABIES.

Q&As and special guests included the cast and crew of HABIT, the cast and crew from BORLEY RECTORY, Rob Grant the director of FAKE BLOOD, The star and producer of DOUBLE DATE, Charlie Carrick from TRENCH 11, The director and cast members from ATTACK OF THE ADULT BABIES. The 2017 event proved yet again Grimmfest is one of the most welcoming genre film festivals in the world.
This personable approach not only makes the festival a great experience for filmmakers and fans alike but also reflects these efforts with sell out audiences who come out in force, hungry to discover inspiring new films and meet the film makers.
Grimmfest is fast becoming the go to genre film fest of the UK and it's now ready for 2018.
Previous World, UK and regional premières include: TRAIN TO BUSAN, THE HALLOW, Rob Zombie's 31, PET, TRASH FIRE, BEYOND THE GATES, DXM, TONIGHT SHE COMES, HE NEVER DIED, DEATHGASM, TURBO KID, WHAT WE DO IN THE SHADOWS, LIFE AFTER BETH, THE BABADOOK, THE DESCENT 2, SINISTER, DEADSNOW 2, COHERENCE, THE WOMAN, AMERICAN MARY, CURSE OF CHUCKY, BIG BAD WOLVES, JOHN DIES AT THE END, EXCISION, THE MACHINE, COCKNEYS VS ZOMBIES, THE DEAD, LET US PREY, VHS, THE ABCs OF DEATH, WHITE SETTLERS and many more.
Previous guests have included: Brian Yuzna (Re-Animator, From Beyond), Corin Hardy (The Hallow), Ken Foree (Dawn of the Dead), Joseph Mawle (Game of Thrones), Liam Cunningham (Game of Thrones), Claudio Simonetti's Goblin (Playing live to Suspiria), Steve Oram (Sightseers), Ross Noble (QI), Martin Kemp (Spandau Ballet), Patrick Mower (The Devil Rides out) & Dominic Brunt (Attack of the Adult Babies), Robin Hardy (The Wicker Man), Pollyanna McIntosh (The Woman), Matthew Holness (Garth Marenghi's Darkplace), Alice Lowe (Prevenge, Sightseers), Shaun Evans (Endeavour, Boy A), The cast of Clive Barker's HELLRAISER, Myanna Buring (The Decent, Kill List) and many more.
Previous Remastered classic screenings include: SCREAM, THE WICKER MAN, NIGHTBREED: THE CABAL CUT, HELLRAISER, HALLOWEEN, THE SHINING, THE DEADZONE, THE DEVIL RIDES OUT, TEXAS CHAINSAW MASSACRE, BRIDE OF FRANKENSTEIN, LA BELLE A LE BETTE, THE INNOCENTS, DAWN OF THE DEAD, THE OTHERS, RE-ANIMATOR, FROM BEYOND, THE HILLS HAVE EYES, THE BURNING, PAN"S LABYRINTH, CRONOS, THE DEVILS BACKBONE, BLADE 11, THE THING, THE FOG, ASSAULT ON PRECINCT 13, THE EVIL DEAD, BIG TROUBLE IN LITTLE CHINA, A NIGHTMARE ON ELM STREET, SCANNERS, VIDEODROME, SUSPIRIA and many more.
We have also hosted special screenings in amazing and unusual venues such as Manchester Cathedral, John Ryland's Gothic Library and Ordsall 15th Century 'haunted' Hall.
Testimonials
"This was my 6th year in a row and it just gets better and better…. Fantastic mix of horror films but Double Date and Sound From the Deep were particular favourites of mine. Looking forward to year 2018!" Billy Tward, Festival goer
"Been going for the last 6 years and it keeps getting better and better" Owen Warberton
"In all respects I can honestly say 'Grimmfest did me proud'! I've attended film premiere's before but I've never felt such a warm atmosphere or watched cast and crew members be so well looked after, myself included. The organisers know what it takes to make a good film production and create a good film festival experience. The vue cinema had great picture and sound reproduction too and it was delightful to experience a film in all it's 'proper' glory. The responses from audience members I got to meet, many of whom had attended throughout, proved they had obviously enjoyed the selection of films and the whole event". Sara Dee, actress – Borley Rectory
"An excellent selection of features and short films and great interview opportunities. Will see you in 2018!" Paul Downey
"Just came back from this year's Grimmfest – our first time – and absolutely loved it! The team worked so incredibly hard to put on a slick and well-timed programme and we watched a wide variety of new releases from the different horror sub-genres over the 4 days. A huge well done and thank you – can't wait to do it all again next year!" Nate Alxndr
"Another great year from the Grimmfest team. An excellent choice in movies proves they always have great taste in a wide range of horror. Plenty to see over 4 days whether you want a day pass, full pass or single ticket screening. 6th year in a row now and I'll definitely be back". Ricky Jackson, festival goer
"This was my first time at grimmfest and it was an awesome four days. The festival was well organized and all ran smoothly. The venue at the Vue Printworks in Manchester was a great venue for the festival, big cinema with a great screen, very comfy and relaxing. Everyone involved in the festival was so helpful and was always up for talking about the festival, films and anything else. All the festivals guests were so kind and was always happy to answer any questions you may have, sign posters, programs and have photos taken. I highly recommend Grimmfest to anyone, I will DEFINETLY be attending again". Jimmy Spriggs, Festival goer
"My fourth time this year absolutely love it. So laid back and well organised". Tam Pirrie, Festival goer
GRIMMFEST, home of horror, cult  and fantastic films in the North, based in Manchester, UK.
To check out highlights and the line up from  GRIMMFEST 2017 click HERE.