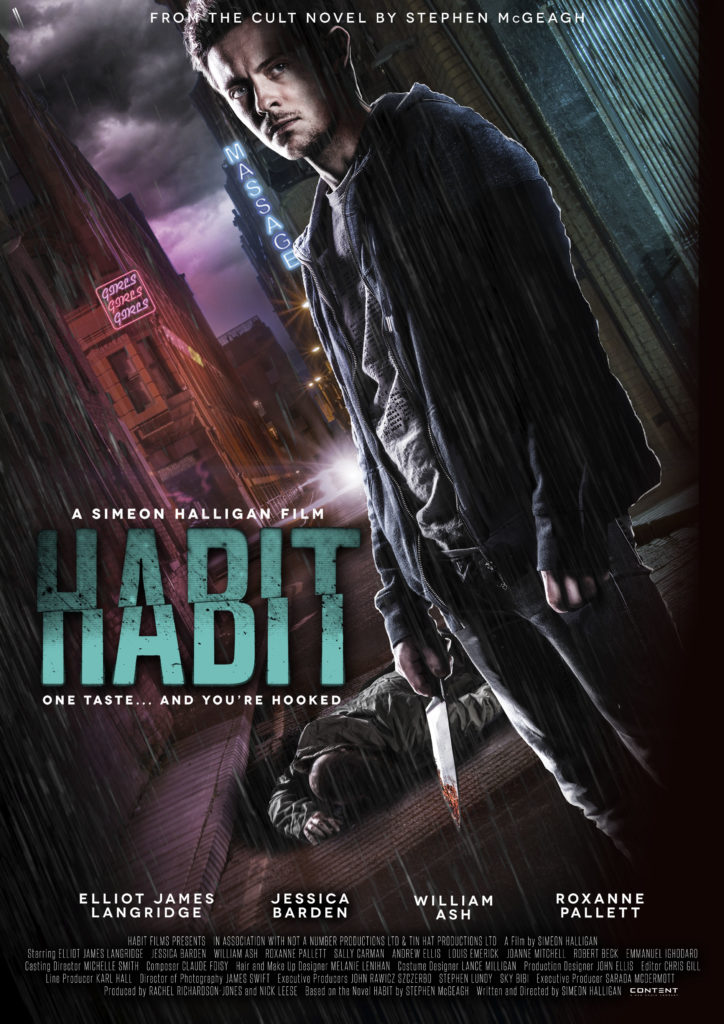 SCREENING: THURSDAY 5TH OCT, 7.00PM
HABIT (WORLD PREMIERE)
Director: Simeon Halligan, Cast: Elliot James Langridge, Jessica Barden, Roxanne Pallett, William Ash, Louis Emerick, Sally Carman, Joanne Mitchell, Robert Beck, UK 2017, 90 min)
Manchester, the present. Michael divides his time between the job centre and the pub. A chance meeting with Lee, an introduction to her Uncle Ian, and a heavy night on the lash, lead to a job working the door at Cloud 9, a seedy massage parlor. After witnessing the violent death of one of the punters, however, Michael starts having increasingly blood-drenched dreams. Are they flashbacks or fantasies? Little by little, he finds himself being sucked into a dangerous twilight world that he doesn't fully understand – but which he finds irresistably attractive. Addictive, even.
Grimmfest supremos Simeon Halligan and Rachel Richardson-Jones return with their third feature, a visceral cinematic visualisation of Stephen McGeagh's acclaimed cult novel, which captures perfectly the dark heart of our fair city of Manchester; that nagging sense that behind the bright lights and bustling bars, the fancy restaurants and hipster hang-outs, there is something older and darker. Something dangerous and predatory, that has you right in its sights. HABIT was shot on location, only five minutes walk from the festival screening venue, so you'll virtually be seeing it in Sensurround!
Guests include:
Elliot James Langridge (Northern Soul, Let's be Evil),
Roxanne Pallett (Emmerdale),
Sally Carmen (Shameless),
Andew Ellis (This is England),
Louis Emerick (Brookside, Zapped)
Joanne Mitchel (Emmerdale, Before Dawn).