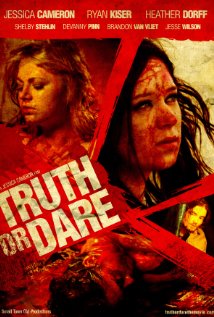 Screening: Thursday 2nd October; Gorilla, Manchester; 12.20 – 2.10pm

Usa; 2014; 89 mins.

Director: Jessica Cameron
Starring: Ryan Kiser – Derik B. Smith, Jessica Cameron – Jennifer Collins

Status: Northern Premiere
The film crosses lines that will upset many, not with its gore, but with the confessions that come out over the course of the night. Shocktilyoudrop
Six college kids find internet stardom when they make "Truth or Dare" videos with a violent twist. It is all fun and games until their number one fan decides he wants to play by his own rules.
GRIMM'S EYE VIEW: Perhaps  it is an appetite cultivated by the internet, or perhaps it stems from somewhere darker; from a desire to experience the extreme, something forbidden – that ultimate cinematic taboo, that shadowy rumour. Or maybe, as this film disturbingly suggests, that one thing leads almost invariably to the other…