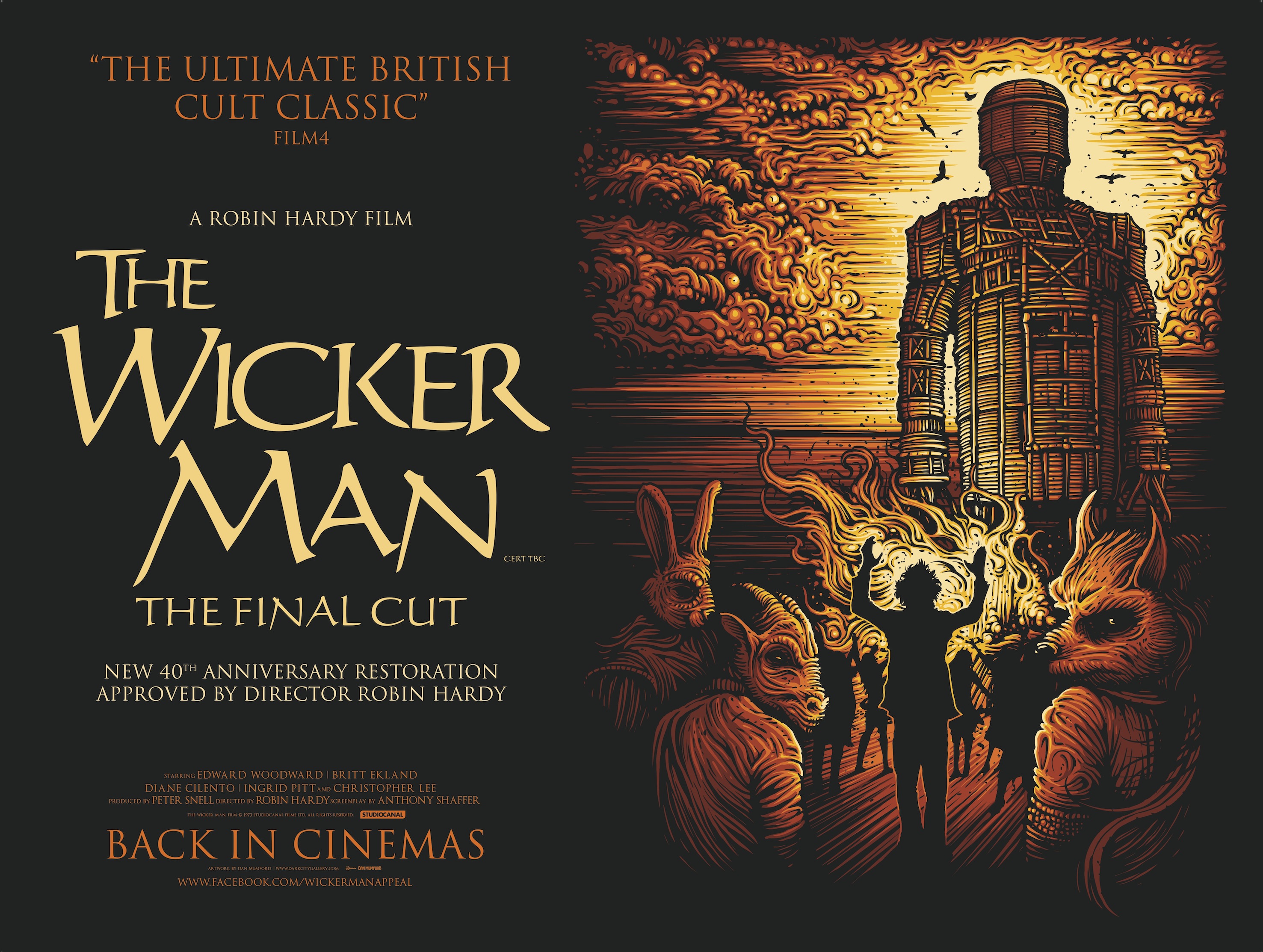 UK; 1973; 90 mins; The Plaza Super Cinema; Stockport
Director: Robin Hardy
Starring: Christopher Lee; Edward Woodward; Diane Cilento; Britt Ekland; Ingrid Pitt
Status: Manchester Premiere
Screening as part of the BFI Gothic Season: Wednesday 2nd October,  7.00pm – 9.00pm
Director Robin Hardy will be in attendence for Q&A after the screening.

"Certainly one of the most chilling British movies ever created" – Empire

"One of the greatest British horror films ever made" – Total Film
This screening is in conjunction with the BFI Gothic Season with the participation of Xavier Aldana Reyes and Linnie Blake as part of the MMU Gothic Week in Manchester
Dour Calvinist sergeant Neil Howie travels to the isolated island community of Summerisle, in search of a missing girl. Here he is horrified to find the mocking, uncooperative locals have reverted to the pagan "Old Religion"…
Four decades after its release in cinemas in 1973, the unique British cult classic The Wicker Man still holds an enduring fascination for audiences all over the world. In this 40th anniversary version of the film is presented as The Final Cut, a version which has never before been restored and never before been seen in UK cinemas. Approved by director Robin Hardy, The Final Cut is the finest and most complete version of The Wicker Man.
GRIMM'S EYE VIEW: Director Robin Hardy has long maintained that the "Short Version" of The Wicker Man, the only one that has ever been shown in UK cinemas, does not make narrative sense. To celebrate the film's 40th anniversary Studiocanal have been conducting an extensive worldwide search for lost scenes. Eventually a 35mm release print was found at Harvard Film Archives and sent to London, where Robin Hardy confirmed it as the cut he had put together in 1979 for the US release, assembled from a 35mm print of his original, preferred, previously unreleased edit. Grimmfest is delighted to be presenting this classic of British cinema as the director himself intended it to be seen.
Please note: The 40th Anniversary cut will have a limited cinema release from the 4th Oct and then on DVD and Bluray from the 13th Oct. Pre-order the film on BD/DVD  HERE