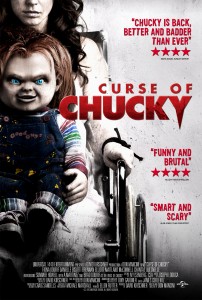 USA; 2012; 90 mins; The Plaza Super Cinema; Stockport
Director: Don Mancini; Starring: Brad Dourif, Fiona Dourif, A. Martinez, Danielle Bisutti,
Status: Northern Premiere
Screening: Wednesday 2nd October; Stockport Plaza; 9:30pm – 11:00pm
"Chucky fans should rejoice as it's clearly going to re-ignite the franchise for years to come. Chucky has never looked better" – Bloody disgusting
"a stylishly twisted unpeeling of its antagonist's strange history" – Grolsh Film Works 
Audience Award for Best International Feature at the Fantasia International Film Festival
Following the mysterious death of her mother, wheelchair-bound Nica is reunited in grief with her sister Barb, brother-in-law Ian, and their little girl, Alice. Then Alice is sent an anonymous present – an unusual-looking, red-haired doll…
GRIMM'S EYE VIEW: This latest reboot of the celebrated Devil Doll, by Chucky creator Don Mancini, proves a real family affair, as the Voice of Chucky, Brad Dourif, is joined onscreen by his daughter Fiona as the malevolent mannequin's latest nemesis. This is something of a revelation! CURSE is beautifully shot, tense and really rather scary, coming on like a gothic haunted house movie with bucket loads of atmosphere. It really is one not to miss. You wont be disappointed.