SANITARIUM & STATIC – 20th June, Dancehouse Theatre
7.30PM START. TICKETS AVAILABLE HERE. (Pre book a ticket now and be placed in the draw to win a fantastic horror goodie bag on the night)
Goodie bag includes: limited edition TOWER BLOCK, MANIAC, HOLLOW theatrical film posters. A selection of horror DVDs including pre-release SANITARIUM.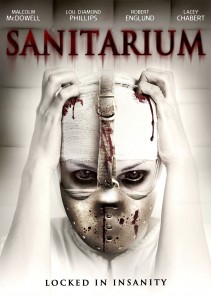 Sanitarium (2013): Three tales based on particular patients of a mental institution – the stories which led to their crazed states of minds.  Hallucinations, imaginary voices and alternate realities, mixed with the paranormal, the unexplainable and the mystical. Starring Malcolm McDowell, Robert Englund & Lou Diamond Phillips.
'The film's three directors are greatly aided by a bevy of impressive casting coups. First and foremost, of course, is McDowell, who brings a cultural cachet and gravitas to the proceedings that is strangely fitting: Thirty odd years after his indelible portrayal of the ultra-violence-enamored Alex in A CLOCKWORK ORANGE, SANITARIUM sees the screen legend return to similar aesthetic stomping grounds—only this time out McDowell isn't a psychopathic human guinea pig at the mercy of an even more demented social engineering bureaucrat; he is the demented social engineering bureaucrat. (Perhaps viewers are being subjected to a clever clandestine Ludovico technique?)
McDowell is hardly the only "get" here. Bryan Ramirez' tale of talking puppets and art world intrigue, "Figuratively Speaking," features both a gloriously on fire John Glover (SMALLVILLE, GREMLINS 2: THE NEW BATCH) in uber-eccentric-mode and a coiled, reserved Robert Englund. A twitch-tastic Lou Diamond Phillips anchors Kerry Valderrama's Doomsday-Preppers-meets-X-Files segment "Up to the Last Man." And DR. S BATTLES THE SEX CRAZED REEFER ZOMBIES: THE MOVIE! director Bryan Ortiz deftly summons the harrowing kid vengeance nightmare "Monsters Are Real" into being with serious assists from twelve year-old TOUCH star David Mazouz, veteran character actor Chris Mulkey, and Lacey Chabert (MEAN GIRLS, PARTY OF FIVE)'. Fangoria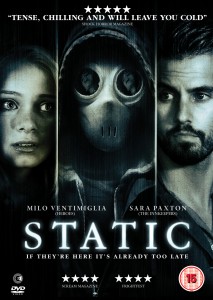 Static (2013): Starring Milo Ventimiglia (Heroes, The Divide) and Sara Paxton ( The Innkeepers, Shark Night, Last House on the Left)
A couple facing marital problems after losing their child finds their life together further complicated by a mysterious visitor. She warns them that they are in danger and sure enough, they are visited in the night by faceless, masked assailants. The question is ,what do they want?
'The pacing of Static is it's main plus, it is a wonderful slow-burn that keeps adding tension and supernatural twists and then mixes it with genuine sorrow as the couple are really struggling to come to terms with losing the one thing they both loved the most.
The casting of the three main characters is spot on and Milo as Jonathan gives a fantastic performance. The camera work is slow , methodical and beautiful and adds to the often slow and silent moments as the couple try to save their lives and their sanity.
Static is truly scary at times and all this without gallons of blood and gore . It is a genuinely spooky horror film that mixes elements from across the genre and adds some twists along the way… with a running time of 80 minutes Static is a perfect length and I was glued to the screen throughout. I am sure due to the slow-burn and lack of blood that this will disappoint some of the hardened horror fans but I must highly recommend Static. A truly scary film that has suspense and tension throughout and as a directorial debut from Todd Levin this is a wonderful first film and he must be applauded for the almost gentle and soft directorial way the film is paced while being bloody scary as hell at times. A great debut and a must see 8/10 !!' UK horrorscene.
'This movie is a hidden gem! Its damned scary!' Grimmfest
Just some of the items in our goodie bag prize (THEATRICAL POSTERS, DVDS and BLURAYS).