Thursday February 7th, Stockport Plaza (7.15pm start. £8.00 entry)
Pascal Laugier is one of the most challenging, boundary-pushing directors currently working in the horror genre. We are delighted to be presenting the regional premiere of his latest feature alongside the film that made him (in)famous.
THE TALL MAN (2012): In a small, run-down Canadian mining town, children have begun disappearing on a regular basis, and the abductions are being blamed on a local legend, known as "the Tall Man". When her own child disappears, a young widow is forced to investigate. But nothing is quite as it seems…Drawing on the urban myth of the slender man the much-anticipated new film from Pascal Laugier confounds all expectations by focusing not on graphic cruelty and visceral horror, but on psychological unease, unfolding mystery, and social observation. But the end result remains the same – the film will both unsettle you and make you think about what you have seen. The TALL MAN will be released by Koch Entertainment in March 2013.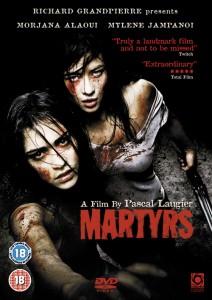 MARTYRS (2008): A young woman's quest for revenge against the people who kidnapped and tortured her as a child leads her and a friend and fellow victim into a terrifying world of cold-blooded cruelty and horror. This cold, clinical exploration of the nature of cruelty is one of the most harrowing, horrifying cinema experiences of recent years. Not so much sadistic as Sadean, it combines some of the most shocking scenes ever committed to camera with a philosophical debate on the nature of martyrdom and spiritual transcendence. This is a film that fits form to subject matter; in which the audience genuinely finds themselves dreading what will happen next, and wondering why exactly they have chosen to subject themselves to such a gruelling experience. A truly challenging and confrontational film in every respect, it is most definitely not for the squeamish or the faint of heart. MARTYRS is available in the UK from Studio Canal.