Thursday January 31st, Stockport Plaza (7.00pm start. £8.00 entry)
Pre-book two or more tickets for this screening HERE and pick up a free GRIMMFEST or SOME GUY WHO KILLS PEOPLE T-Shirt at the screening.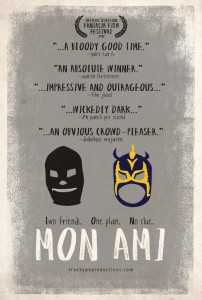 MON AMI (2012): 
Two slacker hardware store clerks decide to kidnap their boss's daughter, and hold her to ransom. Things don't go according to plan, and they are left with a body to dispose of. Then things start to get a whole lot worse.
Pitched somewhere between CLERKS, THE COTTAGE, TUCKER AND DALE VS EVIL, and the films of Martin McDonagh, this droll, deadpan, darkly comic gem has been garnering critical acclaim, rapturous audience response and nice shiny awards wherever it plays. Starting out as a pokerfaced portrait of bickering slackerdom in seedy smalltown Canada, it rapidly escalates into a nightmare farce of double-takes, deception and dismemberment, as our clueless kidnappers' criminal caper careers increasingly out of control. Buffoonery, blood, and black-hearted belly-laughs aplenty guaranteed in this exclusive UK Premiere.
MON AMI will be released in the UK by Grimm Entertainment later this year.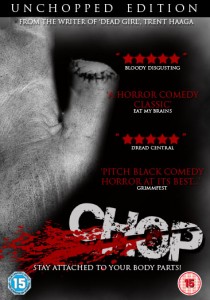 CHOP (2012):  
An obnoxious yuppie has his life – and ultimately his body – pulled apart by a mysterious figure from his past with an inexplicable grudge. By turns nasty, gory and grimly hilarious, this is a movie that traces its lineage back to the outrageous cult exploiters of the infamous Troma studios; a joyously mean-spirited and flat-out weird little romp that marks the directorial debut of cult actor and screenwriter of the critically-acclaimed DEADGIRL Trent Haaga.
CHOP will be released in the UK by Grimm Entertainment in March 2013.
CHOP is out on DVD in the US but released later this year in the UK by Grimm Entertainment.