Presented by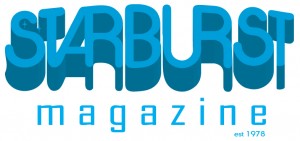 If you attend this screening you could win a years subscription to Starburst Magazine and other Starburst goodies.
CLICK HERE TO BUY YOUR DAY PASSES NOW! - VIA TICKETLINE
CLICK HERE TO BUY TICKETS FOR THIS INDIVIDUAL SCREENING – VIA TICKETLINE
UK; Director: Dominic Brunt; Starring: Dominic Brunt, Joanne Mitchell, Eileen O'Brien, Nicky Evans
Year: 2012
Running Time: 86 mins
Status: Northern premiere
Screening: 4.50pm, 6th October
'An estranged couple's vacation to deserted country cottage in an attempt to save their troubled relationship goes awry when they find themselves under attack…'
GRIMM'S EYE VIEW:
"EMMERDALE and SHAMELESS Stars in Zombie Massacre!" The attention-grabbing tabloid headline pretty much writes itself. But look beyond it. Turns out that Dominic Brunt, best known as village vet Paddy Kirk in Emmerdale, is a huge horror enthusiast, with a particular enthusiasm for Zombies. As is his wife Joanne Mitchell. Shot largely in their own home, this very personal project is a real labour of love for them both – a low-key, emotionally harrowing study of a marriage in meltdown in the midst of the zombie apocalypse, focusing as much on character as carrion-chewing carnage, BEFORE DAWN offers a bone-chilling exploration of whether love really is stronger than death. We'll be joined by Dominic, Joanne and their co-star Nicky Evans as well as executive producer Marc Price for a Q&A after the screening.