<- Return to Line-Up Page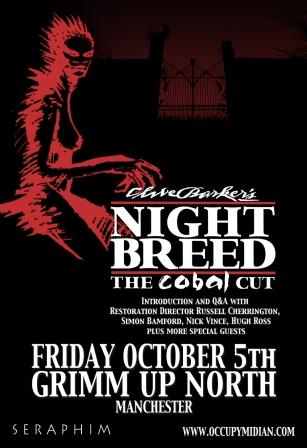 NIGHTBREED: THE CABAL CUT

Hosted by

 If you attend this screening you could win special Scream magazine  prizes and Nightbreed goodies!

CLICK HERE TO BUY YOUR DAY PASSES NOW! – VIA TICKETLINE
UK/USA; Director: Clive Barker; Restoration Director: Russell Cherrington; Producer: Mark Miller, Starring: Craig Sheffer, David Cronenberg, Nicholas Vince, Simon Bamford
Year: 1990/2012
Running Time: 144 mins
Status: Northern Premiere of the Cabal Cut Screening
Screening: 7.00pm, 5th October
Expect surprises, shocks and general strangeness, as we celebrate the sinister sixtieth birthday of the macabre maestro himself, Mr Clive Barker with a special screening of NIGHTBREED: THE CABAL CUT.
NIGHTBREED was for many years a cinematic What If? Genre Cinema's equivalent of Von Stroheim's GREED, or Welles' THE MAGNIFICENT AMBERSONS, a pared down, hobbled version of what it could have been. Clive Barker's original cut of the film was hacked down by nearly an hour before its release, and the excised footage believed lost. And then in 2009, Mark Miller, co-head of Barker's production company, Seraphim Films, discovered from a studio exec that the footage was readily accessible, but that it wasn't felt there was a big enough audience to warrant the studio spending money on a new, extended cut.
When VHS copies of two work prints – Barker's 145 minute mid-1989 cut and an extended 159-minute version – turned up, Russell Cherrington, senior lecturer at the University of Derby, created a composite cut of the film using the additional footage. This is the most complete version of the film available: The Cabal Cut.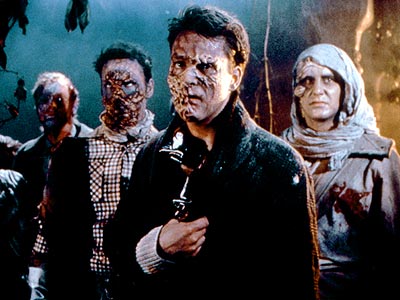 At long last, Grimmlins will have a chance to discover for themselves Barker's original cinematic vision. There'll be a slew of guest speakers from cast and crew including Russell Cherrington, star Simon Bamford and possibly Craig Shaffer and Nicolas Vince plus a birthday message from the man himself. We may even have some birthday cake…
Friday 5th Oct, Schedule
7.00pm (approx) NIGHTBREED: THE CABAL CUT screening
9.30pm (approx) NIGHTBREED: CABAL CUT Q+A
10.00pm (approx) GRABBERS screening
Studio Screenings
8.00pm (approx) Devoured
10.00pm (approx) SOME GUY WHO KILLS PEOPLE screening
Tickets & Booking
Frid 5th October. Start time, prompt 6.50pm.
Tickets for the full night: £10.00 or free as part of the full festival pass.