Grimm Up North are pleased to present a special day of vampire movies, special guests, giveaways and stalls at The Dancehouse Theatre on Oxford Road, Manchester.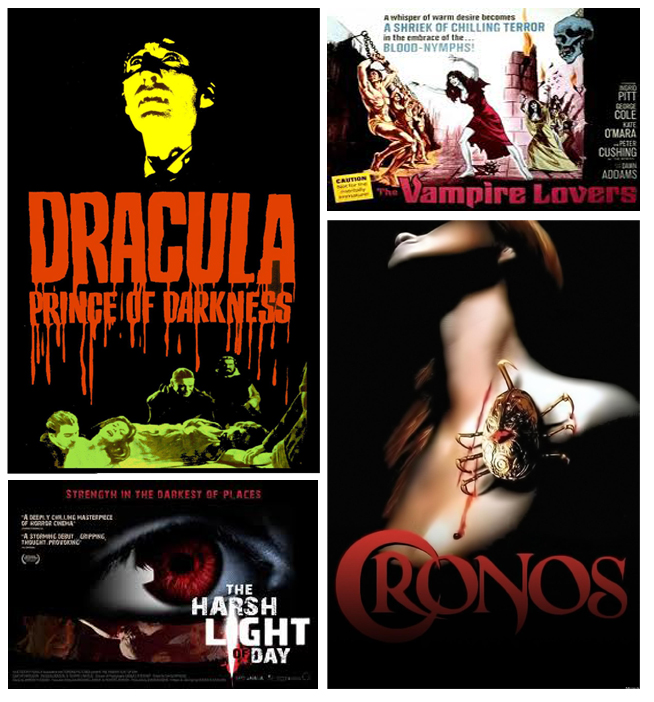 THE BIG SCREEN LINE UP
2.00 – 2.30 SAM STONE reading and Q+A
2.45 – 4.45 THE HARSH LIGHT OF DAY preview screening plus Q+A with cast and crew
5. 15 – 6.45 THE VAMPIRE LOVERS
7.00 – 8.45 DRACULA: PRINCE OF DARKNESS starring Christopher Lee
 8.45 – 10.15 CRONOS by Guillermo Del Toro
10.15 – 11.00 GRIMM SOCIAL in the Dancehouse bar
11.00 – late FREE ENTRY to FAB CAFE and FREE SHOT for all Grimmfest-goers
CAFE SCREEN LINE UP
2.40 – 4.10 CAPTAIN KRONOS – VAMPIRE HUNTER (Hammer Films)
4.40 – 6.30 GOD OF VAMPIRES (New release, Safecracker Pictures)
6.50 – 8.35 BLOOD AND BONE CHINA (Premiere)
8.55 – 10.25 LUST FOR A VAMPIRE (Hammer Films)
This year is the centenary of Bram Stoker's death. Much respect is due to the creator of one of horror's most enduring icons, the bloody count, Dracula – and so, as part of Manchester Fringe Festival, we're holding a special "Vampire Sunday", over at the decadently Deco Dancehouse theatre. Four feature films, special guests and a cheap bar – it's a veritable Feast of Blood!
 Kicking off the day in style, award-winning gothic writer and poet Sam Stone, best known for her Vampire Gene novels,  will be presenting a reading from her latest work, followed by a Q&A session. So if you have any burning questions for Sam or simply want to sit back and be engrossed by her dark and deadly world, get down to the Dancehouse for 2pm, and let the bloodsucking begin…
Our first film of the day is an exclusive preview of gritty new British indie The Harsh Light of Day, which doesn't get a UK release until 1st October, so you lucky Grimmlins will be the first to see it! When occult writer Dan's wife is brutally murdered, and the police fail to find the culprits, he is offered a chance to mete out a very different, far more brutal kind of justice… Combining vampires and vigilantism, it's Death Wish with fangs. We will be joined by cast and crew for a Q&A following the screening.
A more traditionally Gothic version of vampirism next, in cult classic The Vampire Lovers, veteran director Roy Ward Baker's steamy adaptation of J. Sheridan LeFanu's seminal vampire tale, "Carmilla". The late great Ingrid Pitt stars as cinema's most notorious bloodsucking lesbian, with the inimitable Peter Cushing as her implacable nemesis, and Arthur Daley himself, George Cole providing local colour.
For the third film of the day, the Count himself finally puts in an appearance, and we continue our Hammer Horror theme, with Dracula: Prince of Darkness, the sequel to the 1958 classic, featuring Christopher Lee's definitive performance as the Count.
Final film of the day is Cronos, Guillermo del Toro's remarkable reimagining of the vampire legend. A golden scarab turns up in an antique dealer's store. When opened, the device stabs the person holding it, bringing them eternal life and a vampire's lust for blood. See del Toro's classic first feature film in all its bloody glory on the big screen before joining your fellow Grimmlins in the Dancehouse bar for drinks.
To end the evening, the lovely people at Fab Café on Portland Street have offered all Grimm-goers free entry and a free shot, so hardened vamps can continue the party into the night.
DANCEHOUSE CAFE SCREEN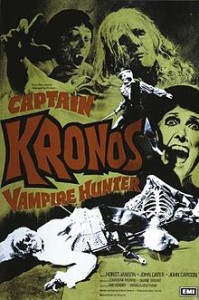 Captain Kronos – Vampire Hunter (1974)
A radical re-working of the vampire myth, Kronos is now considered one of Hammer's best works,  having the foresight to let Avengers duo Albert Fennell and Brian Clemens bring their surreal creativity to the genre. Apparently it was supposed to lead to a TV series with Kronos travelling all over time doing battle with all manner of dodgy monsters. What a shame it didn't happen.
'Surprisingly brutal – there's a lot of blood spurting from assorted necks and mouths, and the almost Airplane-like protracted despatching of poor old Doctor Marcus has to be seen to be believed'. British Horror Films
You are entering the realm of the dead and I am your God. Professional Killer, Frank Ng, is contracted to murder a Chinese crime lord. But the routine hit goes awry when Frank discovers his mark is actually an horrific Chinese vampire.
'God of vampires is like no vampire film you are likely to have ever seen before! It is what a vampire film should be! Blood sprays, bodies are torn asunder, Intestines spill, chainsaws rev, bullets fly, acrobatic martial arts ensue and it is all accomplished with a delightfully gruesome sense of humour!' Killingbox.com
"Full of action, gunplay, geysers of blood, chainsaw deaths and some truly creepy looking vampires." Dreadcentral.com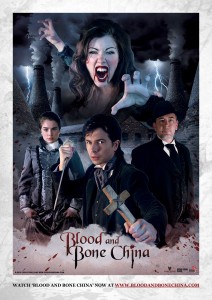 Blood and Bone China (Premiere)

Stoke-on-Trent, 1897: a city in turmoil, as people start to vanish without trace. Investigating the disappearance of his brother, young country vet Newlyn Howell stumbles into a twisted web of deception, murder… and villainous vampires.
A blood-soaked, bodice-ripping slice of Victorian Gothic, crammed with evil industrialists, crusading female journalists, wise orphans, sinister foreigners, literary in-jokes and more vampires than you can shake a crucifix at, Chris Stone's award-winning cliff-hanger chapter-play for the 21st Century fuses the aesthetics of classic Hammer with the lurid, fast-paced melodramatics of "Penny Dreadful" serial novels. Check out the trailer here.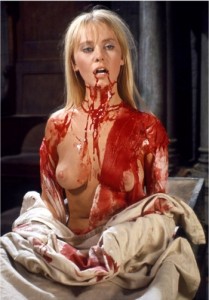 Lust for a Vampire
Second part of the Karnstein Trilogy (After Vampire lovers).
Directed by regular Hammer screenwriter Jimmy Sangster. This sequel upped the sexual content, unleashing the predatory Countess Karnstein in a girl's school. This time around the part of Mircalla / Carmilla was taken by Danish-born former au pair and model Yutte Stensgaard, who, while she lacked the acting chops of Ingrid Pitt did provide several iconic images!
THE RAFFLE
Just some of the prizes up for grabs….
MORE DETAILS ON OUR FILM LINE UP HERE.
MORE ON THE HISTORY OF VAMPIRES AND BRAM STOKER HERE.
A huge thanks to our sponsors for making this event possible.

Please be aware that our lovely Manchester City Council now charge for parking at the weekend. we recommend this car park, only 2 mins away from the Dancehouse Theatre and only £2 all day.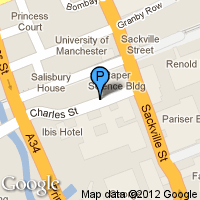 Charles Street – Car Park
The University of Manchester
Charles Street
Manchester
M1 3BB
0161 276 2449